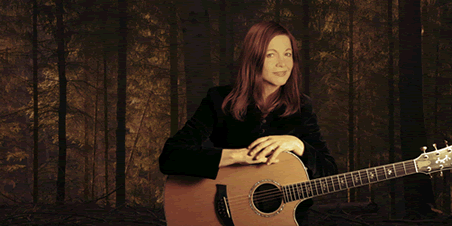 Music for a Change:
An Evening with Carrie Newcomer
comes to Manchester College on April 2
Singer/songwriter Carrie Newcomer discovers beauty amid the ordinary, truth in the bond between music and word. On Thursday, April 2, she will share her folk-roots perspective in a Manchester College concert.

"Music for a Change: An Evening with Carrie Newcomer" begins at 7:30 p.m. in Cordier Auditorium, with suggested donations of $5 to $10 to benefit the Gladdys Muir Chair in Peace Studies. Reservations are not necessary.

Newcomer the peace and justice activist prevails in her music and her workshops. Her message:
"... Those of us who still believe that we can call our environment back from the brink of disaster if we work now to preserve it, who believe that violence can only breed more violence, and feel strongly that poverty and injustice are moral issues, are stepping forward to say 'A philosophy of fear does not speak for me' and asking 'How can I be a force for positive change?' " Learn and listen to more about Carrie Newcomer on her website, www.carrienewcomer.com.

"Her spiritual and ethical images in her music are a great fit for Manchester College," said Abby Fuller, director of the Peace Studies Institute for the College. Newcomer is a Quaker, raised in Elkhart Ind. Manchester is a Church of the Brethren college, home of the oldest peace studies program in the United States.

While on campus April 1-2, Newcomer will present workshops, lecture in classes and hold other conversations about acknowledging the great value of ordinary life, lived extraordinarily well.
The public is welcome at the 4 p.m., Wednesday, April 1 workshop, "The Power of Story: Creative Writing for the Terrified," in the Lahman Room of the College Union.

Newcomer's latest album, The Geography of Light, is her 11th release on Rounder, including The Age of Possibility, The Gathering of Spirits, the Betty's Diner collection and Regulars & Refugees. Her music has won praise in Rolling Stone, The Village Voice, USA Today and The Wall Street Journal.

"Carrie Newcomer is much more than a musician. She's a poet, storyteller, snake charmer, good neighbor, friend and lover, minister of the wide-eyed gospel of hope and grace," says best-selling novelist Barbara Kingsolver, author of The Poisonwood Bible.

The concert is made possible through the generosity of Manchester graduate Sara Edgerton, member of the College Board of Trustees.

For more about peace studies at Manchester College, visit www.manchester.edu.
March 2009