Thursday, Nov. 12
7:30 p.m. Wine Recital Hall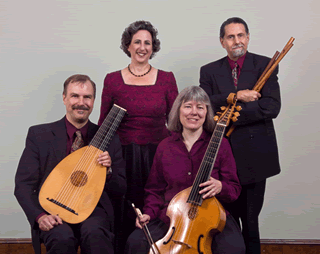 Original Shakespearean music comes
to Manchester College, "Measure for Measure"
On Thursday evening, Nov. 12, join Boston's internationally-acclaimed Ensemble Chaconne and mezzo-soprano Pamela Dellal for a fascinating tour of music from Shakespeare's plays, including songs from Hamlet, Othello, Macbeth, Henry V and As You Like It.
The free concert begins at 7:30 p.m. in Wine Recital Hall on the Manchester College campus. Reservations are not necessary.
The North Manchester performance, "Measure for Measure: The Music of Shakespeare's Plays" includes:
"The Willow Song," sung by Desdemona before her murder in Othello
"It Was a Lover and His Lass," from As You Like It
"O Mistress Mine," from Twelfth Night
"Hark, Hark! The Lark," from Cymbeline
"Take O Take Those Lips Away," from Measure for Measure
"Full Fathom Five," from The Tempest
"Go from My Window," from Ophelia's mad scene in Hamlet
"Greensleeves," quoted in The Merry Wives of Windsor
Ensemble Chaconne includes Peter H. Bloom, Renaissance flute; Carol Lewis, viola de gamba; Olav Chris Henriksen, Renaissance lute; and guest mezzo soprano Pamela Dellal providing vocals. In addition to concerts worldwide, Ensemble Chaconne has performed at major exhibition openings, including Boston's Museum of Fine Arts and the Peabody Essex Museum.
Pamela Dellal is guest starring with the ensemble. She has toured the United States, Europe, Australia and Japan, and has recorded for Arabesque records, Artona, BMG, Dorian, Meridian and KOCH International.
November 2009