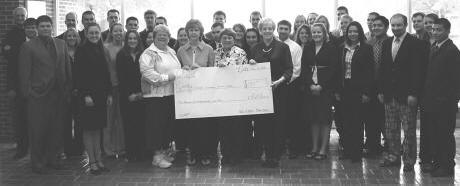 MC students get business
and philanthropy lessons
at North Manchester senior center
What do students at Manchester College have in common with the senior citizens of North Manchester? Lots – including a profitable "corporation" that celebrates their relationship and a fresh look for the senior center!
Business students in the Case Studies class recently gave the Garber-Simmons Senior Center a $1,520 check – the profits of their company, ChetCo, which sold T-shirts, beverage cozies and community business discount cards.
For the students, it was not only a lesson in corporate structure, but also in corporate giving to the community. In addition to raising money, the students visited with seniors at the Senior Center, helped with the annual banquet and silent auction, with bingo and other programs. Company president was senior Cheryl Miller of LaPorte, Ind.
Dr. Timothy A. Ogden teaches the class, which has a history of successful "companies" that donate to local non-profit groups. After six years of "corporate" giving, the Case Studies students have amassed more than $19,000 for the community, plus almost 2,000 hours of service.
In January, students in Principles of Nonprofit Management painted the center, built shelves, and cleaned the closets and cabinets. That class is taught by Dr. Kathryn Carlson Heler, who volunteers at the Garber-Simmons Senior Center, which provides recreational, volunteer, exercise and nutrition programs for members (currently age 60 to 94) and serves as a place to make new friendships and renew old ones. .
"The gift of money from the Case Studies class will allow the center to provide trips to Wabash to visit the Wabash County Historical Museum, the Dr. James Ford Home and the Honeywell Center,' said Dr. Heler. "The money also will pay for speakers, and help the Center begin planning for the future."