Class of 2006 graduate list is below story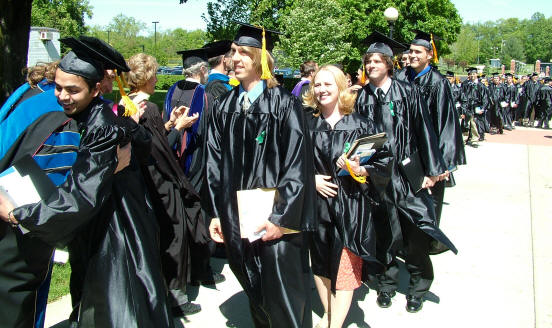 224 receive degrees at Manchester College
on May 21, including former Indiana First Lady
Manchester College added 224 alumni to continue its mission of graduating students of ability and conviction on May 21.
Former Indiana First Lady Judy O'Bannon noted that many of the graduates and their faculty wore green ribbons, signifying they have taken The Graduation Pledge of social and environmental responsibility.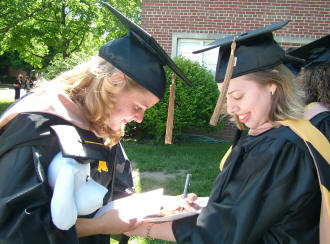 "'What are you going to do?' is an important question, but this green ribbon you are wearing on your robes tells me you are considering another question: How am I going to do it?" said O'Bannon, who received an honorary degree from the College.
More than 40 areas of study are represented in the Class of 2006. As well as baccalaureate degrees, 10 students received master of accountancy degrees and one received an associate's degree. Popular majors for the class were education, natural sciences, business and accounting programs. The students also majored in athletic training, psychology, peace studies, history, economics, political science, sociology, music, religion, social work, economics, computer science and art.
President Jo Young Switzer, also an alumna of the College, charged the graduates to remember their lessons – in non-violent solutions to conflict, respect for others and the environment, and to pass on gifts they have received. "With your impressive achievement today come wonderful new opportunities," she said. "You are people of ability and conviction, and we are proud of you."
Following are the 2006 graduates of Manchester College, listed by their hometowns. Indiana graduates are listed first, followed by grads from other states and then other countries.
Reflections of Remembrance and Gratitude, Baccalaureate, May 21, 2006
Manchester College Class of 2006
***magna cum laude **summa cum laude *cum laude
Indiana Graduates
Albion

Meghan Linvill

B.S.

Accounting

Trenton Marsh

B.S.

Management

Emily Munson

B.S.

Communication Studies

Angola

Laura Rutledge

B.S.

Social Work

Argos

Carolyn Allen

B.S.

Psychology

Auburn

David Tracey

B.S.

Finance

Avilla

Heather Selby

B.S.

Psychology

Berne

Jacelle Stevens

B.S.

Communication Studies

Bloomington

Noah Stroup

B.S.

Political Science

Bluffton

Ryan Carr

B.S.

History

Daniel Sprunger

B.S.

K-12 Visual Arts

Bourbon

Sara Boyer

B.S.

Biology

Steven Boyer

B.S.

5-12 English/Language Arts

James Read

B.S.

Athletic Training, K-12 Physical Education

Bristol

Angela Vaksvik

B.S.

Psychology

Grant Williams

M. Acct.

Accounting

Butler

Mandy Freed

B.S.

Physical Education

Camby

Torrance Dean

A.A.

Art

Camden

Jared Cree

M. Acct.

Accounting

Cayuga

Melissa McKinney

B.S.

Athletic Training

Churubusco

Jessica Lange ***

B.S.

Early/Mid Childhood Generalist, Mild Intervention

Coatesville

Tabitha Hufford

B.A.

Art

Columbia City

Kathleen Brandon

B.S.

Early/Mid Childhood Generalist, Mild Intervention

Jacob Huffman

B.S.

Psychology

Converse

Aja Michael*

B.A.

5-12 World Civilization

Corunna

Matthew Spiess

B.S.

Athletic Training

Elkhart

Marc Hall

B.S.

5-12 Social Studies

Karen Hitt

M. Acct.

Accounting

Cameron Hollenberg

B.S.

Sociology

Nickolas Iannarelli

B.S.

History

Margaret Miller

B.S.

Sociology

Reaunna Murphy

B.S.

Communication Studies

Fort Wayne

Jennifer Buhr

B.S.

Environmental Studies/Natural History, Biology

Laura Combs

B.S.

Chemistry

Ryan Gebfert

B.S.

Biology-Chemistry

Samuel Hogue

B.S.

Physical Education

Emily Moeller

B.S.

Management

Crystal Paulson

B.S.

Biology

Kacina Peters

B.S.

Early/Mid Childhood Generalist, Mild Intervention

Deepali Rauniyar

B.S.

Engineering Science

Jaren Schroeder**

B.A.

English

Steven Wernke

B.S.

Small Business Management

Sara Young

B.S.

Communication Studies

April Zuber*

B.S.

Early/Mid Childhood Generalist

Franklin

Zachary Burton

B.S.

History

Frankton

Rebecca Welker

B.S.

Early/Mid Childhood Generalist, Mild Intervention

Goshen

Zachary Clemens

B.S.

Biology-Chemistry

Nickolaus Cripe*

B.S.

Financial Accounting

Joshua Detwiler

B.S.

Financial Accounting

Megan Friesen

B.S.

Biology-Chemistry

Steven Grubb

B.S.

Communication Studies

Andrew Kaminskis

B.S.

Psychology

Jose Medina

B.A.

Management

Marcus Ulmer*

B.S.

Biology-Chemistry

Granger

Zachary Reichert

B.S.

Biology

Greentown

Heather Hill

B.S.

Early/Mid Childhood Generalist

Tiffany Maple**

B.S.

Early/Mid Childhood Generalist

Hammond

Maria Castro

B.A.

Business Administration

Hobart

Joanna Sajda

B.S.

Early/Mid Childhood Generalist

Hudson

Erin Gropp

B.S.

Biology-Chemistry

Huntertown

Paul Bracht

M. Acct.

Accounting

Tara Bickel

B.S.

Communication Studies

Huntington

Amber Gaskill

B.S.

Political Science

Matthew Jennings

B.S.

Financial Accounting

Garth Stout

B.S.

Financial Accounting

Trent Wolfe

B.A.

Accounting

Idaville

Gabriel Tribbett

B.S.

History

Indianapolis

Benjamin Felix***

B.A.

Spanish, Biology-Chemistry

Quanni Franklin

B.S.

K-12 Health Education & Physical Education

Eric Strobel

B.S.

Religion

Kendallville

Huong Nguyen*

B.A.

Financial Accounting

Sherita Septiani*

B.A.

Financial Accounting

Kimmell

Abbey Lortie

B.S.

K-12 Visual Arts

Joel Luckey

B.S.

Early/Mid Childhood Generalist, Mild Intervention

Kokomo

Katherine Leese**

B.A.

Secondary Education: French, 5-12 English

Michael Shearer

B.S.

Marketing

Cierra Wisher

B.S.

Early/Mid Childhood Generalist

La Porte

Cheryl Miller*

B.S.

Business Administration

Lafayette

Zachary Taylor

B.S.

History

LaFontaine

Stefanie Thompson

B.A.

English

Lakeville

Jason DeWispeleare

B.A.

Biology-Chemistry

Larwill

Gina Johnson

B.S.

K-12, Adapted Physical Education & Physical Education

Leesburg

Michael Hanlin

B.S.

Marketing

Ligonier

Jodi Cline

B.S.

Psychology

Mandy Gangwer

B.S.

Athletic Training

Logansport

Jessica Cozzello

B.S.

K-12 Health Education & Physical Education

Amy Lowe

B.S.

Nonprofit Management

Lowell

Adam Erpelding

B.S.

History

Michigan City

Christopher Deutscher

B.S.

Management

Allison Haynes

B.A.

Nonprofit Management

Sharon Osborne

B.A.

Early/Mid Childhood Generalist

Middlebury

Shannon Houser

B.S.

Financial Accounting

Mill Creek

Holly McEathron

B.S.

History

Millersburg

Linda Titterington*

B.A.

Business Administration

Mishawaka

Sarah Easrburn

B.S.

English

Susan Frey

B.S.

Biology-Chemistry

Brian Koczan

B.S.

Physics

Sarah Reed*

B.A.

Spanish, Music

Monroeville

Melinda Gibson

B.S.

Financial Accounting

Monterey

Michael Zehner

B.S.

K-12 Health Education & Physical Education

New Haven

Emily Quandt*

B.S.

Early/Mid Childhood Generalist, Mild Intervention

Noblesville

Christine Zirkle

B.S.

Biology-Chemistry

North Liberty

Rachel Long*

B.A.

Peace Studies, Environmental Studies

N. Manchester

Prabesh Acharya

B.S.

Computer Science

Christopher Burkett

B.S.

Economics

Lydia Burton

B.S.

Early/Mid Childhood Generalist, Mild Intervention

Jennifer Calhoun

B.S.

Psychology

Dana Clousing

M. Acct.

Accounting

Aaron Cook*

B.A.

English

Brittany Falk*

B.S.

Psychology

Don Kalema

B.A.

Economics

Davin Kozlik

B.S.

Management

Myra Martin-Adkins*

B.A.

Sociology

Rachel McFadden

B.A.

Communication Studies

Travis Poling

B.S.

Religion

Candice Preston*

B.S.

Early/Mid Childhood Generalist, Mild Intervention

Jennifer Smiley

B.A.

Art, Spanish

Matthew Unger

B.S.

History

Brad Vah

B.A.

Sociology

Nicholas Winters

B.S.

Physical Education

Osceola

Baana Veen

B.A.

Psychology

Peru

William Edwards

B.S.

Physical Education

Jennifer Hann

B.S.

K-12 Music: Area

Cassandra Taylor

B.S.

Sociology

Pierceton

Autumn McKinney

B.S.

Elementary Education: Non-Teaching

Portage

Matthew Cates

B.S.

K-12 Health Education & Physical Education

Porter

Joshua Sconce

B.S.

Business Administration

Portland

Erik Loucks

B.S.

Marketing

Rensselaer

Stephen Hostetter

B.S.

Financial Accounting

Rensselaer

Sarah Jeffrey

B.S.

Psychology

Richmond

Michele Keller

B.S.

Physical Education

Roanoke

Amanda Garner

M. Acct.

Accounting

Viktoria Khutorska

B.A.

Finance

Rochester

Ryan Chudzynski

B.S.

Communication Studies

Amanda Conley

B.A.

Sociology

Adriene Early

B.S.

History

Rochester

Brandon Tugmon

B.S.

5-12 Social Studies

Schererville

Shaun-Ryan Sanchez

M. Acct.

Accounting

Sharpsville

Jared Johnson

B.S.

Psychology

Shelbyville

Anne Griffey*

B.A.

Early/Mid Childhood Generalist

Scott Harding

B.A.

Spanish, Marketing

Kevin Kuhn

B.S.

Marketing

Silver Lake

Nichole Pearson

B.S.

Early/Mid Childhood Generalist

Crystal Terry

B.S.

Psychology

South Bend

Melissa King

B.S.

Elementary Education: Non-Teaching

South Whitley

Jarred Jagger**

B.S.

Mathematics

Teri Walter

B.S.

K-12 Health Education & Physical Education

Star City

Melissa Koske

B.S.

Psychology

Syracuse

James Hike

B.S.

Political Science

Syracuse

Rachelle Large

M. Acct.

Accounting

Syracuse

Elizabeth Weybright

B.A.

Athletic Training, Exercise Science

Terre Haute

Laura Britt

B.S.

Psychology

Thayer

Brandon Pogue

B.S.

Management

Tipton

Joshua Sigler

B.S.

Communication Studies

Union City

Amy Brouse

B.A.

Management

Valparaiso

Erika-Lorena Martinez

B.A.

Financial Accounting

Wabash

James Hutchings**

B.S.

Music

Alexander Indrutz

B.S.

Secondary Education: Life Science

Wakarusa

Janell Cook

B.S.

Early/Mid Childhood Generalist, Mild Intervention

Warsaw

Kristy Blauser

B.S.

Finance

Amanda Conley

B.S.

Elementary Education

James Samuels

B.S.

Athletic Training

Danielle Shepherd

B.S.

Elementary Education: Non-Teaching

Katherine Stoneburner

B.S.

Early/Mid Childhood Generalist

Norma Terrazas

B.A.

Business Administration

Wawaka

Jamie Mynhier*

B.S.

Psychology

Winamac

Rebecca Cloud*

B.S.

Financial Accounting

Yoder

Melissa Bailey

M. Acct.

Accounting

Zionsville

George Mallett

B.S.

Economics
Other states
| | | | | |
| --- | --- | --- | --- | --- |
| Arizona | Phoenix | Erica Hudson | B.S. | Early/Mid Childhood Generalist |
| California | Bakersfield | Katherine Keeling | B.S. | Early/Mid Childhood Generalist |
| | Diamond Bar | Paul Sparks | B.S. | Sociology |
| | Fremont | Erin McCourt | B.A. | Peace Studies |
| Colorado | Georgetown | Elizabeth DeRyke | B.A. | Mathematics, Spanish |
| Illinois | Algonquin | Judith Small | B.S. | Peace Studies, Political Science |
| | Elgin | Kelsey Swanson** | B.S. | Sociology |
| | Franklin Grove | Kirby Jasper | B.S. | English |
| | Naperville | Logan Condon | B.A. | History |
| | Pekin | Robert Charvat* | B.A. | Biology-Chemistry |
| | Polo | Jonathan Staufer | B.S. | Physics |
| | Springfield | Corinne Lipscomb* | B.A. | Chemistry |
| Iowa | Marion | Sarah Malooley* | B.S. | Biology |
| Kansas | McPherson | Jonathan Dutrow | B.S. | Environmental Studies |
| Kentucky | Newport | Joseph Lamplot | B.S. | History |
| | Versailles | Mary Kay | B.S. | Sociology |
| Maryland | New Windsor | Benjamin Leiter* | B.A. | Peace Studies |
| Michigan | Adrian | Timothy Noffsinger | B.S. | Mathematics, Physics |
| | Flint | Andrea Shell | B.S. | Athletic Training |
| | Manistee | Timothy Robison | B.S. | Exercise Science, Athletic Training |
| | Manistee | Gregory Robison** | B.A. | Physics, Mathematics, French |
| | Niles | Natalie Aschenbrenner** | B.S. | Early/Mid Childhood Generalist, Mild Intervention |
| Missouri | Arbela | Rebecca Miller* | B.A. | Spanish, English |
| New York | Jamaica | Nadia Abuamouneh | B.S. | Psychology |
| Ohio | Bryan | Emily Davies | B.S. | Social Work |
| | Canton | Ibtisam Rashid | B.S. | Economics |
| | | Sowhad Rashid | B.S. | Communication Studies |
| | Celina | Melinda Harris | B.S. | Social Work |
| | Clayton | Meagan Harlow | B.A. | Early/Mid Childhood Generalist, Mild Intervention |
| | Eaton | Michael Barnes | B.S. | Early/Mid Childhood Generalist |
| | New Carlisle | Marissa Buckles | B.S. | History |
| | Ohio City | Whitney Johnson | B.S. | Chemistry |
| | | Blake Young | B.S. | Early/Mid Childhood Generalist |
| | Tipp City | Brooke Pyles | B.S. | Social Work |
| | Vandalia | Sarah Oren | B.A. | History, French |
| | | | | |
| Wisconsin | Greenfield | Hikmat Hamed | B.S. | Biology-Chemistry |
| | | | | |
| N.S., Canada | Lanesville | Benjamen Sutherland | B.S. | Elementary Education |
| Ont., Canada | Lindsay | Matthew McLaughlin | B.S. | Business Administration |
| Nigeria | Garki Abuja | Flora Dibal | B.S. | Biology-Chemistry |
| Uganda | Kampala | Jeremy Lwanga | B.S. | Computer Science |
| | | Sheila Tugume | B.S. | Financial Accounting |
| Nepal | Kathmandu | Dawa Sherpa | B.S. | Elementary Education: Non-Teaching |
| | | Namgyal Sherpa | B.S. | Business Administration |
| West Bank | Ramallah | Eman Jamal | B.S. | Communication Studies |
| Israel | Ramallah Palestine | Michleen Khayyat | M. Acct. | Accounting |
| Bulgaria | Sofia | Boris Nikolaey** | B.S. | Economics |
| Mexico | Xalapa | Mary-Lu Garica Gonzalez | B.S. | Management, Marketing |