Future physical education teacher DeGrandchamp receives
top national student honor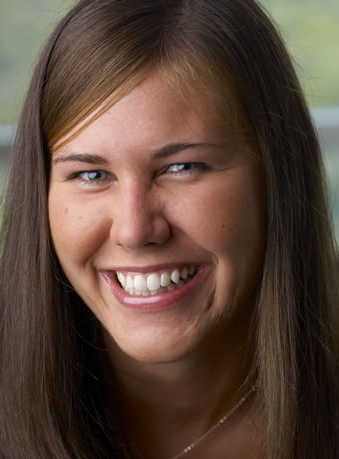 Manchester College junior Melanie DeGrandchamp of Fort Wayne received the highest student honor of the American Alliance for Health Physical Education, Recreation, and Dance at its national convention in April.
DeGrandchamp is 2008 Undergraduate Adapted Physical Education Student of the Year. "This is a really special national award," notes her mentor, Lana Groombridge, chair of the Department of Exercise and Sport Sciences. "Only the very best receive this recognition." DeGrandchamp, a graduate of Bishop Luers High School, is the first Hoosier to receive the prestigious award in the past 10 years.
In addition, the Alliance (AAHPERD) also has awarded her its $1,000 Ruth Abernathy Presidential Scholarship for her "fine academic performance and extra-curricular accomplishments."
DeGrandchamp, whose name appears consistently on the Dean's List, plans to teach students with disabilities. She was 2007 Outstanding Student of the Indiana partner of AAHPERD and a Manchester College 2007 Outstanding Student Leader, with a habit of leadership in the Sports, Health and Physical Education Club; Student Education Association; intramurals; and the state Council of Future Professionals. DeGrandchamp also volunteers with several organizations that assist persons with disabilities.
She accepted her award at the April 10 AAHPERD convention in Fort Worth. Professors Groombridge and Kim Duchane, director of the College's adapted physical education program, accompanied her.
AAHPERD, the nation's largest alliance of physical education, fitness, health and dance professionals, unites five national associations and six district associations and a research consortium to support healthy lifestyles through high-quality programs.
For more about preparing for careers in adapted physical education at Manchester College, click here.