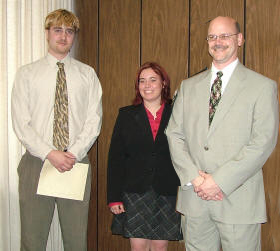 Michael Pillow, Nicci Small
and Interim Dean Dave McFadden
River biology, Indian affairs capture Dean's Symposium honors at Manchester College
Two Manchester College students – and their research on American Indians, stream ecology and the grim lessons of the Grand Alliance's first amphibious assault – each captured the top prize at the 7th Annual Dean's Student Scholarship Symposium.
Each student took home $150, after difficult judging that could have presented top honors to at least six competitors, said Dave McFadden, interim dean for academic affairs. A total of 18 students presented analysis papers, original research and creative works March 18 before faculty evaluators. Each was mentored by a faculty member. The winners, unranked, are:
Senior Michael Pillow of Elkhart, Ind., monitored Pony Creek in North Manchester to provide the framework and baseline data for long-term investigation into the ecological integrity of the tributary of the Eel River that has cropland and feed lots in its watershed. The biology major was mentored by Dr. Jerry Sweeten, assistant professor of biology.
Junior Judith (Nicci) Small of Algonquin, Ill., visited two American Indian reservations to explore how autonomous people became dependents of the state and tools the government has used to attempt eradication of a culture. "It's time to enhance social justice at home," said Small, majoring in political science and peace studies. She was mentored by Dr. Tim McElwee, associate professor of peace studies.
Manchester, a Church of the Brethren college, offers 45 areas of study to 1,075 students from 22 states and 30 countries. For more about Manchester College, visit www.manchester.edu