Jared Mobley, Dean Glenn Sharfman and Sam Cox
Jared Mobley, Sam Cox win
Jo Young Switzer Award
at Dean's Student Scholarship Symposium
Presentations on the sacrifices made by German-Americans during World War I and research on smallmouth bass in the Eel River drew top honors at the 9th Annual Dean's Student Scholarship Symposium at Manchester College.
History and German major Sam Cox of Kokomo and environmental studies major Jared Mobley of North Manchester each received The Jo Young Switzer Award for Excellence and $150 following an afternoon of presentations by 26 Manchester students on Friday, March 9.
"The quality of the papers was astounding," said Glenn R. Sharfman, vice president and dean for academic affairs. "Our students turned out work that was, in many instances, graduate quality. It is so gratifying to see students motivated by scholarly material and be able to be authoritative in their area. Their faculty mentors also deserve a great deal of credit for giving their time to help students achieve their best."
Mobley, a junior, discussed reproduction, habitat preference and year class strength of smallmouth bass in the Eel River, near North Manchester, based on a research project last summer. The report on his research with another student also won Best Student Paper for the American Fisheries Society. Mobley's mentor is Dr. Jerry Sweeten, assistant professor of biology and director of environmental studies.
Cox, a senior, looked to history for his presentation. "Finding their loyalty questioned all around them, German-Americans sacrificed their culture, language and unique identity in the face of overwhelming pressure to become true Americans and prove their dedication to their new homeland," said Cox, a graduate of Northwestern High School in Kokomo. He was mentored by Dr. Katherine Tinsley and Dr. Mark Angelos, associate professors of history.
Other presentations ranged from research on gypsy moths, the Commercial Revolution and biodegradation of certain pharmaceuticals to American Sign Language in elementary school, vertical jumping and U.S. intervention in Nicaragua.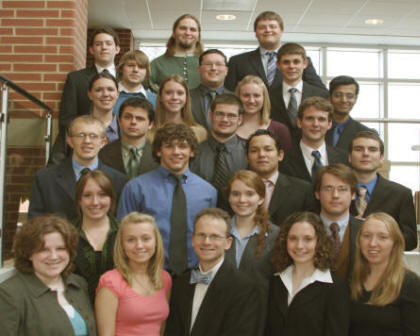 9th Annual Dean's Student Scholarship Symposium
entries


Group photo
at bottom of story







































Front row (from left): Jessica Bair, Ashlee Light, Dean Sharfman, Elizabeth Mishler, Holly Smith. 2nd row: Leticia Bitner, Matt Talarico, Colleen Hamilton, Andrew Leavens.

3rd row: Kyle Coffman, Camilo Velasquez Mejia, Josh Wolfe. 4th row:

Eli Hersberger, Jared Mobley, Christopher Cosner. 5th row: Stacey Carmichael, Elizabeth Strahammer, Emily Toole, Tapash Deb. 6th row:

Zachary Blatz, Chris Hamlyn, Sam Cox.

Back row: James Tyner, Andrew Haff, Kyle Watson