Best-seller Paul Roberts leads the conversation
as Manchester College pauses
to discuss "The Future of Energy"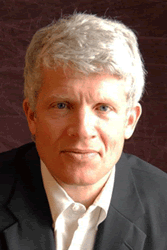 How is it that a country with less than 5 percent of the world's population burns 25 percent of the planet's energy? Paul Roberts has harsh words for his fellow American gas guzzlers, calling them "the most profligate users of energy in the history of the world" and "energy-illiterate" in his best-selling book, The End of Oil.
Paul Roberts headlines a campus-wide conversation about "The Future of Energy" for Discussion Days, March 2-4 at Manchester College. Roberts often writes on the interplay of economics, technology and the natural world. Joining the discussion are experts with industry, government and academic viewpoints.
Roberts' opinions have appeared in The Los Angeles Times, The Washington Post, USA Today, The New Republic, Newsweek and Rolling Stone. He also authored The End of Food. Roberts will do a book signing following his 10 a.m. Monday, March 2 presentation in Cordier Auditorium.
The College will cancel classes on Wednesday, March 4 so students can focus on the energy discussions. The public is welcome at all Discussion Days events, which are free. Students and speakers will ponder the role of government in the future of energy, energy consumption and resources, and alternative energy resources.
At 8 p.m. Tuesday, March 3, students will view and discuss the 2006 documentary Who Killed the Electric Car? in the Lahman Room of the College Union.
Monday, March 2
10 a.m. – Author Paul Roberts: "Oil Forever? Risks, Opportunities, and the Return of Cheap Oil," in Cordier Auditorium, followed by a book-signing
4 p .m. – Author Paul Roberts, "And Now for Something Completely Different: The Difficulties of Replacing Oil," in Flory Auditorium, Science Center
Tuesday, March 3
8 p.m. – Movie: Who Killed the Electric Car? Followed by discussion and refreshments, in the Lahman Room, College Union
Wednesday, March 4
9 a.m. – "Energy and Society: There's No Free Lunch," by biologist Jerry Sweeten, Manchester College director of environmental studies, in Cordier Auditorium
10:15 a.m. – Panel: "The Role of Government in the Future of Energy" with Brandon Seitz, director of the Indiana Office of Energy and Defense Development; Cary Aubrey, program manager for bioenergy development for the Indiana State Department of Agriculture; and Dave McFadden, MC executive vice president and teacher of environmental politics
1:30 p.m. – Panel: "Current Energy Sources" with Karl Stanley, executive director of energy supply and trading for NIPSCO; Peter Burns, Massman Chair of the Department of Civil Engineering and Geological Sciences for University of Notre Dame; and Brandon Seitz; in Wine Recital Hall
3 p.m. – Panel: "Alternative Energy Sources" with Bryan Christjensen, general manager of POET Biorefining; Jimmy Bricker, Purdue University extension director for Benton County; Dave Hippensteel, engineer and installer of solar panels for Riverbridge Electric; Lane Brown, president of Loop Group Inc. geothermal design consultant; in Wine Recital Hall
February 2009