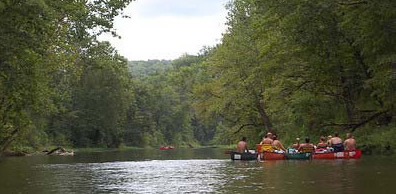 Experience the Eel River with free
and easy canoe float Aug. 8
sponsored by Watershed Initiative
Area residents will see firsthand the natural and historical beauty of the Eel River during a free canoe float between North Manchester and Laketon on Saturday, Aug. 8.
"Come out with us for a day of fun and relaxation and connect with our natural heritage," said Terri Michaelis, watershed coordinator for a $1 million initiative to clean up a 30-mile stretch of the Eel River. "This event is free and open to the public, so bring your family, friends and neighbors."
Canoeists will examine the fish species, learn about otters, experience the Native American history and learn about the water quality and soils within the watershed, Michaelis said. Participants also will hear about the Middle Eel River Initiative, a coalition of Manchester College, Wabash and Miami county conservation agencies, and at least 17 other groups.
The Middle Eel River Watershed Initiative will provide canoes and equipment, but participants with their own canoes or kayaks are welcome, too. All participants must register in advance. The float, which covers a mild stretch of the river between North Manchester and Laketon appropriate for all ages.
Participants will gather at 9 a.m. on Saturday, Aug. 8 in the Science Center of Manchester College to register and discuss the float and safety precautions. A shuttle will depart the College at 10 a.m. for the launching site.
To register, contact the Initiative at 260-982-5101 or tmmichaelis@manchester.edu, or click here.

July 2009
Middle Eel River Watershed Initiative
Terri Michaelis, Watershed Coordinator
260-982-5101
Manchester College
Science Center, Room 211
North Manchester, IN 46962
Read more about the Initiative