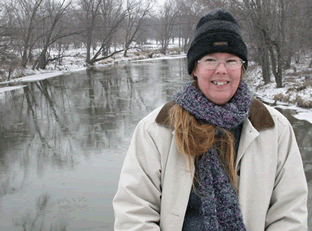 New Initiative Coordinator
Terri Michaelis
Eel River Initiative gets under way
with new steering committee, coordinator
State and area conservation leaders and biologists will gather Feb. 12 to organize the Steering Committee of the $1 million Middle Eel River Watershed Initiative. The public is invited to the 11 a.m. Thursday meeting in Room 210 of the Science Center on the Manchester College campus in North Manchester.
Committee members will define the mission of the Initiative, create sub-committees that will focus on water quality, education and outreach, said newly hired watershed coordinator, Terri Michaelis, who will serve on and serve the committee.
Members of the Steering Committee:
Jan Stout, program director, Miami County Soil and Water Conservation District

Penny Collins, executive director, Wabash County Soil and Water Conservation District

Rick Duff, soil conservationist, Miami County Natural Resources Conservation Service

Joe Updike, soil conservationist, Wabash County Natural Resources Conservation Service

Ed Braun, district fisheries biologist, Indiana Department of Natural Resources

Rod Edgell, assistant district fisheries biologist for the Indiana Department of Natural Resources

Jerry Sweeten, director of environmental studies, Manchester College

David Kreps, Biology Department chair, Manchester College
The 30-mile stretch of the Eel between North Manchester and Mexico, Ind. – a watershed of nearly 300 square miles – comprises the Initiative. The river is on the "impaired" list of the Environmental Protection Agency for its excessive levels of e-coli, PCBs, mercury and other pollutants.
The initiative's nearly $600,000 in Clean Water Act funds from the Indiana Department of Environmental Management will be augmented by $400,000 in contributions from more than 17 environmental agencies, schools, organizations, businesses and individuals who are stakeholders in the quality of the Eel River.
Michaelis, of Rochester, Ind., has served as assistant director for the Geneva Center camp and conference center in Rochester, a health food store manager, branch manager for Roche Biomedical Labs, and research assistant for Manchester College science faculty.
The honor student is on track to receive a degree in environmental studies from the College this May. For more about the initiative, contact Terri Michaelis, 260-982-5101, tmmichaelis@manchester.edu
February 2009