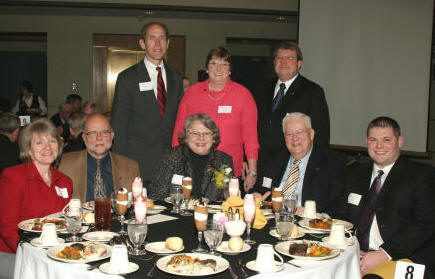 At the head table, from left: Sandy Haist, board Chair J. Bentley Peters,
former board Chair Dave Haist, Ann Marden, President Jo Young Switzer,
Dave Switzer, President Emeritus Parker Marden, and student government president Trent Marsh.
Manchester celebrates $72 million
campaign with party for friends
About 145 members of the Manchester College community gathered Sunday night at the Honeywell Center in Wabash to celebrate the completion of The Next Step! Fund-raising campaign.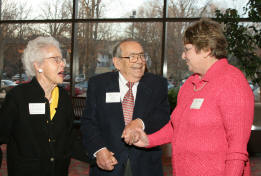 "While we started with a campaign with a $49 million goal, when the whistle was blown, we had a campaign that raised more than $72 million!" said David A. Haist of Fort Wayne, who chaired the Board of Trustees during part of the campaign. "These kinds of results come from commitment," added current board Chair J. Bentley Peters of Elgin, Ill., noting the small North Manchester liberal arts college has only a modest endowment.
The campaign transformed the campus both with new and renovated structures, and bolstering funds for technology, scholarships and faculty enrichment.
"We have much to be thankful," said President Jo Young Switzer, "abundant blessings to be sure: an energizing science center, a dramatic recital hall and art gallery, a busy fitness center, more than $8 million in new scholarships, and many more tangible things.
"But our blessings are even greater … a deep sense of community right here in this room tonight, the opportunity to give to a college that transforms lives and a chance to pass our treasurers of money and time to students whose lives will be enriched forever."