Note date change to Oct. 29
for Vera Bradley co-founder Pat Miller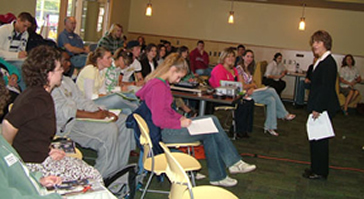 Manchester's entrepreneurial
class is thinking outside
of the … clock?
Members of the Johnston Entrepreneurship Program at Manchester College are used to thinking outside the box for solutions. But on Wednesday, Nov. 14, they also will think outside the time zone – way outside the time zone.
Lecturing to the Entrepreneurial Thinking class that day is innovator Kent Sweitzer … live from Hiroshima, Japan … at midnight North Manchester time! The lecture accommodates a 13-hour time difference, and the popular late-night study habits of Manchester College students.
Sweitzer has successfully commercialized opportunities in several fields, from medical devices to web-based software. He's currently running a bed and breakfast in The World Friendship Center in Hiroshima. He will tell his Manchester College audience about the opportunities he lost and found as an entrepreneur.
This special lecture is open to the public – no class registration required, said Jim Falkiner, the Mark E. Johnston Professor of Entrepreneurship, who teaches the class. Simply show up before midnight on Wednesday, Nov. 14 in Room 102, Science Center, to listen to and talk with Sweitzer live.
Falkiner teaches Entrepreneurial Thinking. Typically, the class meets 2 to 2:50 p.m. Monday-Wednesday-Friday.
"Last year, the guest speakers were awesome," says junior marketing major Erik T. Pederson of Fremont, Ind., who plans to catch the midnight lecture. "They were people from fields you wouldn't think of when people said entrepreneurship. The guest speakers can help you make connections in the future and can show you how entrepreneurship can be used in any field."
Sweitzer is the only midnight oil burner. Others this semester, at the usual class time, have included a pastor who discussed how congregations struggle to attract new members and a former executive for a global moving company who started up a movie theater.
The public also is invited to hear other guest lecturers:
Oct. 17 – Scientist Howard Petty of the University of Michigan Kellogg Eye Clinic, on the challenges of a scientist with no business training starting a medical instruments company. (2 p.m., 102 Science Center)

Oct. 29– Vera Bradley Designs co-founder and former Indiana Secretary of Commerce Pat Miller, on how she identified an underserved market segment, women travelers, and in doing so, created a new category: style-branded fashion luggage and accessories. (2 p.m., The Café, College Union)
For more about the Mark E. Johnston Entrepreneurship Program at Manchester College, contact Professor Jim Falkiner at 260-982-5219 or jrfalkiner@manchester.edu.