Fast Horse brings
Native American culture, lessons
to Manchester College campus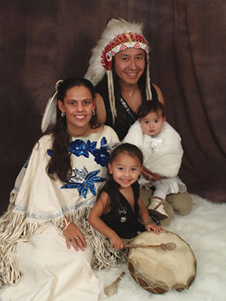 The Native American family Fast Horse will present two educational performances on the Manchester College campus Oct. 25-26 – with a twist. The "class" will take place on the College mall, right in the middle of campus!
The Fast Horses are members of the nomadic Lakota tribe from the Minnesota region. Part of the Sioux tribe, their name, "Lakota" translates into English as "allies." The Fast Horse family has presented more than 3,000 shows nationwide, from street to stage, on three continents, in six countries, 44 states, and a province.
At 8 p.m. on Thursday, Oct. 25, Fast Horse will perform and discuss Lakota ceremonies, spirituality and mythology, dressed in beautiful costumes and incorporating audience participation, dance and fire. Families, school classes and the general public is invited to the free event in Cordier Auditorium.
The public also is invited to a "class" performance on the campus mall the following morning, at 10 a.m., Friday, Oct. 26. (Cordier, if it rains.)
For more information about Fast Horse, visit www.thefasthorses.com.