The Fifth House Ensemble
chamber musicians plan
brief residency in community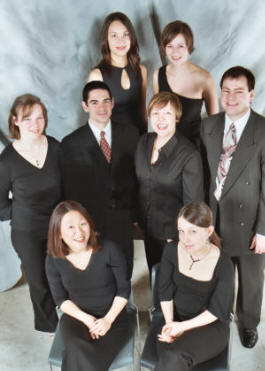 The Fifth House Ensemble brings its innovative and educational chamber music to Manchester College for a 7:30 p.m. performance on Sunday, March 11. While in residency, the musicians will perform in North Manchester schools and conduct a master class with college students.
"They performed for our Manchester Symphony Orchestra gala dinner two years ago, and we wanted to share their talents with the entire community," said MSO Conductor Suzanne Gindin. "Chamber music, art music without a conductor, can be an intimate and profoundly moving experience for the players and the audience."
The March 11 performance is in the college's Wine Recital Hall, the perfect venue for the ensemble, Gindin added. The Fifth House will perform music by Poulenc, Copland, ter Veldhuis, Piston and Reinecke. Tickets are $5, free to senior citizens. Reservations are not necessary.
Members of The Fifth House Ensemble unite chamber music with other programming, such as theatre, dance and even gourmet dining and winemaking. They are active orchestral musicians, performing with the Civic Orchestra of Chicago, New World Symphony and the Chicago Symphony Orchestra, and serve on the faculties of Chicago area schools. For more about The Fifth House Ensemble, visit www.fifth-house.com
Music
at Manchester College