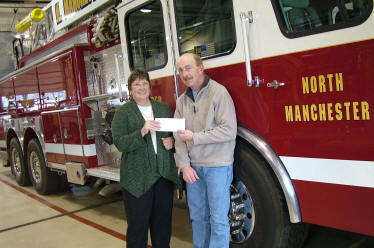 President Jo Young Switzer delivers $10,000 to Fire Chief Dan Renz
College delivers $10,000 check
to help N. Manchester buy fire truck
President Jo Young Switzer on Dec. 8 hand-delivered a $10,000 check – the first payment on Manchester College's commitment to help finance a new $318,000 pumper truck for the North Manchester Fire Department.
"We are happy to support the North Manchester Fire Department's efforts to provide first-rate protection for the entire community," said President Switzer. "This demonstrates the mutually beneficial relationship between the town and College and respects the challenges we face to provide a safe community for all who live and work here."
The College is collaborating with Timbercrest and Peabody retirement communities to support the Manchester Fire Department in the purchase. The town of North Manchester is providing the $78,000 down payment for the pumper, which will take the Florida manufacturer about nine months to build, said Town Manager Dan Hannaford.
"The Fire Department would have been several years away from being able to finance a new truck on our own," said Fire Chief Dan Renz. "To me, this shows that Manchester College doesn't want to be just the college on the corner of town; they intend to be a part of this whole community by being involved in matters that effect all of us."
The College and retirement centers also helped buy a $500,000 aerial truck for the Fire Department.
The new pumper, which firefighters will attach to hydrants to boost water spray, will replace a 31-year-old truck that no longer can pass the annual test for "Class A" pumping apparatus, which affects the insurance rating – and raises insurance costs for property owners, said Chief Renz.
Over the next six years, the College will make installment payments of about $4,000 annually to assist with the town's financing package for the pumper. Peabody and Timbercrest also have committed to annual payments.
Manchester College, with 1,075 students and 300 employees, contributes more than $26.5 million annually to the Wabash County economy.