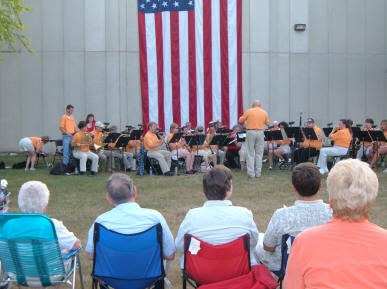 Strike up the band!
Free fireworks party
is Monday, July 3 on campus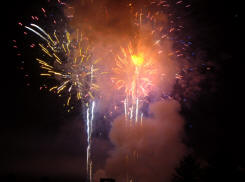 (July 2006) Wabash County independence celebrants get a double treat on Monday, July 3, when Manchester College and local firefighters will light up the night sky, with a musical preamble. It's the fifth annual Fourth of July Celebration on the College campus, and it's free!
The music begins at 8 p.m., when the 35-member Manchester Civic Band directed by Reggie Smith strikes up a concert of patriotic and traditional favorites.
At 10 p.m., the North Manchester Volunteer Fire Department will manage the 20-minute fireworks display, on the practice field on the east side of campus.
The patriotic party is funded by a $5,000 gift to the community by the College. (The fireworks start later this year to accommodate the switch to Eastern Daylight Time.
The North Manchester Rotary will provide $1 popcorn, pop and hot dogs. Proceeds of the concession stand will help fund North Manchester community projects.
The rain date is Tuesday, July, 4 with no change in time or location.