Friday, July 4, 2008
College throws annual Fourth of July Celebration on July 4th … and it's free!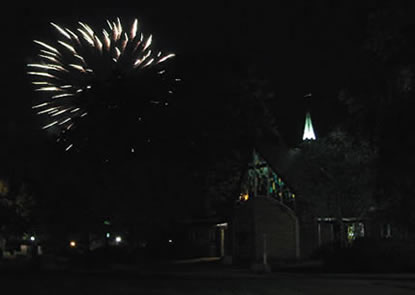 2007 Fourth of July Celebration photo by Dave Grandstaff
Music, fireworks, patriotic readings by community residents – it's the Fourth of July Celebration at Manchester College! The free event is on Friday, July 4th, an annual gift to the community from the College that last year drew a very pleased crowd of 1,000.
The show begins at 8:30 p.m., when the Manchester Civic Band strikes up patriotic tunes with Reggie Smith at the baton. Following a welcome at 9 p.m., several community members will read patriotic poems and portions of famous speeches between the music. The fireworks begin at 10 p.m. The celebration is staged on the campus athletic grounds, off East Street on the northeast edge of North Manchester.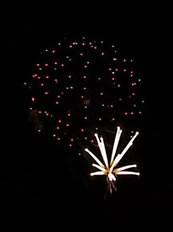 The $5,000 fireworks display is underwritten by the College as a celebration of its place in the North Manchester and Wabash County community.
This is the second year the fireworks will include readings by local volunteers who span life, from neighborhood youth to World War II Iwo Jima veteran Bart Corricelli. Readers include fourth-graders Kaylee Brubaker, Teri Ann Hall and Bethany Pegg; fifth-grader Matthew Pegg; and ninth-grader Kaylee Watson, all of North Manchester.
Members of the North Manchester Fire Department will light a fantastic blaze of fireworks at 10 p.m. "The volunteers enjoy doing the work. It's something to give back to the community," says Fire Chief Cam Kissinger of the half-hour sky show.
In past years, the volunteers manually lit each display – a dangerous task. "It was pretty much duck and cover," recalls Kissinger. This Fourth, the firefighters will set off the display electronically. "It's nice because we set them up and then get to sit back and watch," says the chief.
The annual fireworks party also helps reduce the danger of home fireworks in the community. Personal fireworks – including sparklers and other small incendiaries – are not permitted at the event for crowd safety and protection of College grounds.
As usual, the North Manchester Rotary Club will sell $1 hot dogs, pop, water and popcorn to raise funds for community programs, events and scholarships. Parking is available north and east of the College Union.
If it rains, the event will reschedule to Saturday night, July 5, same times, same place.
For details about the Fourth of July Celebration in North Manchester, call Manchester College at 260-982-5210.