MC student realizes her dreams,
and statewide recognition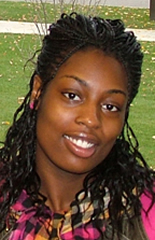 Manchester College sophomore Joi Harmon of Indianapolis has worked hard to get where she is now. That's why her selection as a 2009 Realizing the Dream Outstanding First-Generation Student means so much to her.
Harmon is among 32 Hoosier students recognized by Independent Colleges of Indiana who have demonstrated superior academic performance and leadership during their first year of studies.
"I've actually been working since I was 14," says Harmon, listing jobs at McDonald's, the public library, Journeys shoes and Marsh supermarket. "Being rewarded is so good for me because I feel like I've worked so hard. I guess that's realizing the dream."
An internship with United Water in Indianapolis while attending Arlington High School gave her experience in both human resources and public relations, careers she's now considering.
At Manchester College, she continues to balance studies, jobs and extracurricular activities. She made the Dean's List her very first semester. Harmon worked in financial services during her first year and currently is an overnight host and student ambassador for prospective students. Meanwhile, she is an active member of the campus International Association, secretary of Black Students Union and is of the campus chapter of Circle K International, a Kiwanis collegiate community service club.
The $2,000 Realizing the Dream grant is made possible by a grant from Lilly Endowment Inc. Independent Colleges of Indiana will celebrate Harmon's achievements will be celebrated at a banquet Saturday, Nov. 7 in Indianapolis.
Applause also will greet Harmon's high school mentor – school counselor Steve Rickleff, a 1969 Manchester College graduate who encouraged her to pursue a college degree. For his part in Harmon's success, Rickleff will receive a $1,000 professional development award.
Manchester has a $100,000 grant from Wal-Mart Foundation to assist and mentor area first-generation high school students who plan to attend college. For more information about these scholarships or attending Manchester College, visit www.manchester.edu.
November 2009