Fit4Learning
8 a.m. to 3 p.m.
Tuesday, Nov. 6
College Union, upstairs
Area teachers gather at College
for lessons in energizing students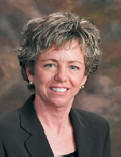 More than 40 Wabash County teachers will recharge and learn how to energize their classrooms during an action-packed "Fit4Learning" workshop" on Tuesday, Nov. 6 at Manchester College. The College's education majors will join the 8 a.m. to 3 p.m. workshop in the College Union.
Teachers will leave invigorated with ideas that will engage their students and make learning creative and exciting, said Lana Groombridge, chair of the Department of Exercise and Sport Sciences. On the agenda is music that moves students to learn easier and faster, funky words to increase memory and scores of other novel, fun classroom activities that involve action, movement and music.
Lead presenter is Cathie Summerford, president of Fit4Learning and author of Action-Packed Classrooms: Movement Strategies to Invigorate. The California Teacher of the Year and National Association for Sport and Physical Education Teacher of the Year has 16 years of experience teaching, from pre-school to college-age, including those with diverse needs. Her research has focused on the implications of motion on learning and retention.
Sharing funding of the workshop with the College is Community Foundation of Wabash County, the Wabash County REMC, Indiana Campus Compact, and the Indiana Association of Health, Physical Education, Recreation, and Dance.
For more information about the workshop, contact Lana L. Groombridge, 982-5353 or llgroombridge@manchester.edu.