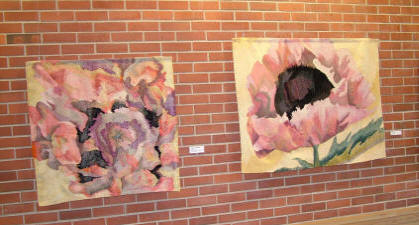 Manchester College presents tapestry
by Francine Delk Gratz
Simple tools and centuries-old methods are essential elements for rich and complex color and design in the woven tapestry of Francine Delk Gratz on display at Manchester College through April 16.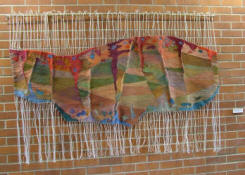 The exhibit is open 8 a.m. to 10 p.m. weekdays and during weekend public events in the Link Gallery and Wine Recital Hall lobby. Admission is free.
"Tapestry depends upon the three related crafts of spinning, dyeing and weaving," says Gratz, who studied art at the Instituto Allende, San Miguel de Allende, Mexico and also as an art student of Professor James Adams and the late Professor Max I. Allen at Manchester College. The 1968 MC grad has taught art in North Manchester and Person County, N.C., schools and served as an administrative assistant for the University of Chicago History Department. A North Manchester resident, she is married to MC Library Director Robin J. Gratz.
Her study in fiber arts at the Instituto in 1976 convinced her that tapestry is both a legitimate and, for her, an ideal artistic medium. While natural dyes, made by the artist from indigo, cochineal, goldenrod, madder and marigold have always been important to her work, interest in flowering plants and garden design increasingly has drawn her toward naturalistic themes, reminding the viewer of the interrelationship between materials and images.
The works of Francine Gratz have hung in the Contemporary Craftsmen, The Clay People galleries and the Artisan Shop & Gallery in the Chicago area; in juried shows at Earlham College, the Fort Wayne Museum of Art, Artlink Gallery in Fort Wayne and The Cinergy Collection traveling show. Her work also has appeared in solo shows in the Honeywell Center in Wabash, the Foellinger-Freimann Botanical Conservatory in Fort Wayne and Manchester College.
She has created commissioned works for private homes and offices of the Lincoln National Life Insurance Co. in Fort Wayne and ACA Corp. in Streamwood, Ill. Some of her current work is for sale at the Hospitality House in North Manchester.
Manchester, a Church of the Brethren liberal arts college, offers 45 areas of study to 1,075 students. For more about the college, visit www.manchester.edu