MC's latest Fulbright will teach English in South Korea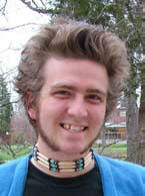 A first-generation world traveler passionate about language and gardening will spend a year in South Korea as he continues Manchester College's leadership in producing Fulbrights.
Graduating senior Forest I. Etsler, raised in Muncie, Ind., will embark in July on a 10-month adventure in South Korea, where he will teach English as a Foreign Language and compare the cultural dialogue between the natural and spiritual worlds in Korea with that of America. "I am fascinated by Korea's rich Buddhist history, natural beauty, and traditional gardening methods," says the honors student and MC grounds worker.
In receiving the teaching assistantship, Etsler becomes Manchester College's 18th student to receive a Fulbright grant within 10 years, and the fourth to receive a grant to South Korea. The Church of the Brethren college continues to produce more Fulbright per capita enrollment than any other college or university in Indiana. The Fulbright is the U.S. government's flagship program in international educational exchange, with Congress annually funding student grants for career-launching study and research abroad. About 1,000 student grants were awarded this year.
Etsler, a graduate of Burris Laboratory School at Ball State University, is the first in his family to travel outside the United States. On an Imagination Grant from the Kemper Fellowship program in summer 2003, he backpacked "literary" England and he studied at the Universitat de Barcelona in spring 2004 with Brethren Colleges Abroad.
At Manchester College, he has studied English and American language and literature, tutored his peers in writing and volunteered with the Indiana Reading Corps in area elementary schools. The Honors Program student is proficient in Spanish. He played Spartan baseball 2001-2003 and works on the campus grounds crew.
Etsler has embraced the Manchester College community. "I have been encouraged to question who I am and discover who I will be" at Manchester College, he told the Fulbright committee. "Opportunities to study abroad, pursue independent research, and travel at home and abroad have enriched my education, my sense of self, and my view of the world."
Upon his return from South Korea next May, Etsler plans to pursue his doctorate in American literature, and teach the subject.
For more about Manchester College, visit www.manchester.edu. For more about the Fulbright program, visit http://www.iie.org