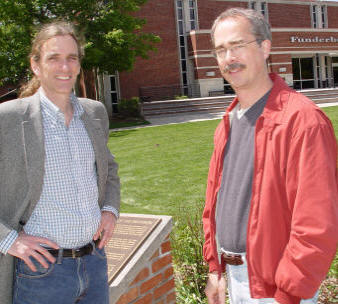 Dr. Greg Clark, left, and Dr. Steve Naragon
Two on faculty will do research
in Europe as Fulbright Scholars
Two members of the Manchester College faculty will do research in Europe next year as Fulbright Scholars. Selected for their academic achievement and extraordinary leadership potential in their fields are Dr. Gregory W. Clark, associate professor of physics, and Dr. Steven S. Naragon, associate professor of philosophy.
Established in 1946 under legislation introduced by the late Senator J. William Fulbright of Arkansas, the Fulbright Scholar program is America's flagship international educational exchange activity, sponsored by the U.S. Department of State.
Dr. Clark, a member of the MC faculty since 1992, will travel to Cardiff University in Wales to work with Dr. J. Emyr MacDonald on nanoscience research involving conducting polymer (plastic) molecules. He will spend fall 2006 and January session in Wales, returning to his Manchester classrooms in February.
"The research I'll be doing is on the fundamental level – trying to understand the interactions at the nano-scale," said Dr. Clark. "In the future, we may be able to use this knowledge for a true nanotechnology." For example, such nanoscience could revolutionize electronics in the creation of much-smaller circuits, with millions of transistors on a single integrated circuit chip.
Dr. Naragon will use his Fulbright grant in spring 2007 to transcribe, edit, and translate into English a set of student notes from Kant's metaphysics lectures.
"Kant is the most-important philosopher of the 18th century, and his student, Johann Herder, went on to become one of his most important early critics," said Dr. Naragon, who will work in Marburg, Germany, on a first draft of a German-English edition. He recently spent six months writing encyclopedia articles about Kant's philosophy and other German philosophers.
Dr. Naragon, a 1982 Manchester College grad, earned his Ph.D. from the University of Notre Dame. Dr. Clark's doctorate, master's and bachelor's degrees are from Indiana University.