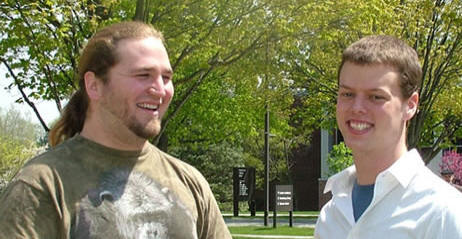 Andrew Haff, left, and Tim Polakowski have received Fulbright scholarships.
Two more Manchester scholars
to teach abroad as Fulbrights
One is a free spirit with glorious voice, a student of martial arts whose passion for environmental service runs as deep as his certainty that his calling is to teach history to high school students.
The other methodically approaches his future with service fulfilled in another language, jamming a full school year and three January sessions abroad into his four-year, high-honor bachelor's degree.
Two more Manchester College graduates join the elite roster of Fulbright grant recipients: Andrew F. Haff, a history major from Westminster, Md.; and Timothy R. Polakowski, a social work and Spanish major from Rockton, Ill.
Their grants bring to 25 the number of Fulbrights from Manchester College – more per capita than any other Indiana university or college. The Fulbright is the U.S. government's flagship program in international educational exchange.
For their Fulbright engagement, Polakowski will teach English in South Korea; Haff will teach English in Vietnam.
Polakowski already is an experienced teacher and coach of English as a second language for Spanish-speakers, with considerable volunteer service in the North Manchester area as well as a recent semester with a clinic in a Chicago neighborhood. He is so comfortable and fluent in Spanish that he authored a 105-page guide to local resources for area Spanish speakers.
After his Fulbright, he plans to complete graduate study toward certification for clinical practice to work with immigrant populations. He expects Korea will better prepare him for social work in the Chicago area, home to more than 50,000 Koreans.
Polakowski is comfortable living abroad. At Manchester College, he studied 10 months in Spain, and three January sessions in Mexico, Nicaragua and Europe. When not teaching, he aims to study Korean social welfare and the universal health care system of the country … and become fluent in the language.
Haff will teach English at the college level in Vietnam in a new Fulbright program. He'll have no problem projecting his voice, or communicating – the bass vocalist began his college career in musical theatre and has impressed Manchester College audiences as a member of the A Cappella Choir, as the lead in Sound of Music and in recitals (even though he is not a music major).
He has traveled to Europe with Manchester College classes and with the United States Youth Ensembles. "The Fulbright will … let me help others understand my language and culture," said Haff in his application.
Undoubtedly, he also will seek opportunity to fulfill his commitments as an environmentalist. After his Fulbright experience, Haff anticipates pursuing a master's degree in education to prepare for teaching high school students … and continue in volunteer service for the environment and wildlife. "My experiences at Manchester have nurtured my independence and deepened my desire to help others."
While in Vietnam, Haff hopes to investigate its martial arts, captivated by the opportunity to learn new styles to "discipline my mind and body."