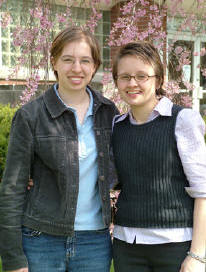 Hanna Ditmars and Rosetta Burkholder
Two seniors continue Manchester College Fulbright tradition
NORTH MANCHESTER, Ind. - Two Manchester College spring graduates will study internationally next year with Fulbright Program grants. The two seniors continue a Fulbright tradition at Manchester College, which has produced 17 Fulbrights in the past eight years.
This year, the Fulbright grants go to Rosetta Burkholder of Shipshewana, Ind. and Hannah Ditmars of Pickrell, Neb.
Manchester College continues to produce more Fulbrights per capita enrollment than any other college or university in Indiana. The Church of the Brethren college offers 45 areas of study to 1,170 students from 29 states and 33 countries. The Fulbright is the U.S. government's flagship program in international educational exchange, with Congress annually funding more than 900 U.S. student grants.
Burkholder, fluent in German, will continue her education in sociology at Universitšt Mannheim in Germany. "When I received a letter of invitation from the university there, they mentioned that it was rated No. 1 for sociology in Germany," said Burkholder, who plans to study family issues and the German social structure during her one-year Fulbright.
Ditmars expects to teach English in South Korea, but will not know her specific Fulbright assignment until she completes a six-week language and cultural orientation. "I would like to live in a more rural area and teach middle school girls," she said. "I hope the children that I teach can gain a better understanding of other cultures through their interaction with me."
"Fulbright grants emphasize outstanding academic achievement, respect for different cultures, and a sense of adventure," said Jo Young Switzer, vice president and dean for academic affairs. "These are the qualities we want Manchester College students to achieve, too."
Fulbright program advisor Professor H. Kendall Rogers begins encouraging students to apply early in their college careers. The application process is lengthy. "You spend six weeks intensely writing the best application possible, then you wait five months, then you start anticipating an answer, anxiety and impatience sets in and all of a sudden the waiting is over," Burkholder said.
Rosetta Burkholder is a finance and sociology major whose path to the Fulbright was difficult and amazing. Frustrated by her Amish family's separation from the outside world, at 18, Burkholder stashed her belongings into paper bags, left home and embarked on six years of educational and financial catch-up to qualify for college. The coursework was difficult, but even in subjects she had never studied before she collected A grades. She worked with the underprivileged and explored Italy, Austria, Switzerland, France, England, Hungary and studied in Germany through Brethren Colleges Abroad (BCA).
"Throughout my college career I became increasingly aware of the curse of poverty, and am humbled that this cycle has broken for me," Burkholder told the Fulbright committee. Germany was her first choice because she wants to learn about "its way of doing things. I find Americans often being ethnocentric, and I've realized that other cultures and societies accomplish the same things as we do - bear and raise children, grow up, get educated, get married, grow old, and die - but in very different ways."
After her Fulbright year in Germany, Burkholder hopes to provide job training and personal finance planning to underprivileged residents of Columbus, Ohio.
Hannah Ditmars, a graduate of Beatrice High School, is a sociology major. She has traveled in Germany, Jamaica, the Czech Republic, Slovakia, Hungary, Austria, Luxembourg, Italy, Switzerland and in France last year through BCA. "Manchester College's persistent challenge to reach out of myself and into the real world is manifested in my extensive travels throughout college," Ditmars told the Fulbright committee.
Ditmars, whose childhood best friend is profoundly deaf, has a passion for teaching the deaf and hearing-impaired and would like to obtain a master's degree in American Sign Language interpretation at Gallaudet University in Washington, D.C. "I hope to learn as much Korean as possible and, if I can get the right connections, I would like to learn a little Korean Natural Sign Language," she said of her year ahead.
After her Fulbright experience, Ditmars plans to pursue graduate study in audiology in hopes that she can use her experiences to improve the lives of others. "By conversing with deaf people in the United States, France and Korea and experiencing their respective cultures, I will emerge as a better audiologist and a crucial liaison between the deaf and hearing communities," she told the Fulbright committee.