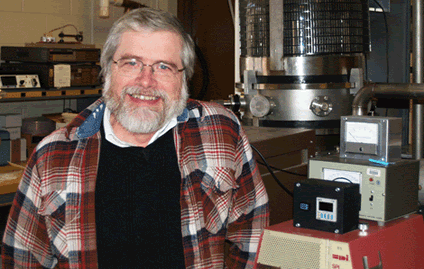 NASA scientist to discuss moon
research at Manchester College
NASA scientist James R. Gaier of North Manchester will present a convocation on "Why go to the Moon?" at 10 a.m. on Monday, March 9 at Manchester College. The public is invited to the free 50-minute talk in the upper College Union.

The former professor and chair of the Manchester College Chemistry Department has spent nearly half his life studying the moon – especially how the lunar and Martian dust affects spacesuits, spaceships and lunar equipment.
For the Manchester College speech, Gaier will talk about a NASA survey that asked: "Why should we go to the moon?" His answers are not all about science – many are commercial, educational and infrastructure reasons.

This fall, the National Aeronautics and Space Administration (NASA) honored Gaier with its Exceptional Achievement Medal for his work at its Glenn Research Center in Cleveland. His research also has garnered him accolade as a NASA Space Flight Awareness Honoree for his contribution to astronaut safety.

Gaier, a 1974 graduate of Manchester College, commutes weekly to his NASA laboratory at the Glenn Research Center in Cleveland, where Manchester interns frequently join his research.

On March 9, Gaier will be introduced by senior physics major Kerry Rogers of North Manchester, who helped the scientist analyze the effects of lunar dust on astronaut fabrics – including the spacesuit worn on the moon by Astronaut Alan Bean during an Apollo mission. Junior engineering science major Tsega Mengistu of Ethiopia also participated in the fabric research.
March 2009