Manchester to honor global peace scholar
at commencement ceremony Sunday, May 23
NORTH MANCHESTER, Ind. – On Sunday, May 23, Manchester College will deliver 223 bachelor's degrees, 16 master's degrees, seven associate's degrees and honor one of the nation's most important thinkers in the study of world order and peace.
The commencement ceremony begins at 2:30 p.m. on Sunday, in the Physical Education and Recreation Center, following an 11 a.m. baccalaureate in Cordier Auditorium. The college's first three graduates of its Master of Arts in Contemporary Leadership program will collect their diplomas, and 37 seniors will graduate with honor, said Registrar Lila D. Hammer.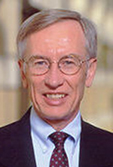 Robert C. Johansen, a widely published expert on international ethics and global governance, the United Nations and the maintenance of peace and security, will receive an honorary degree, Doctor of Humane Letters. Johansen, who graduated with distinction in 1962 from Manchester College, is conducting research on enhancing U.N. peacekeeping and enforcement as senior fellow in the Joan B. Kroc Institute for International Peace Studies at the University of Notre Dame.
Johansen will speak briefly at commencement. His articles have appeared in The Atlantic, Harper's, The New York Times and other popular periodicals, and in World Politics, Third World Quarterly and many other professional journals. His books include The Constitutional Foundations of World Peace and The National Interest and the Human Interest: An Analysis of U.S. Foreign Policy.
"Part of Dr. Johansen's renown comes from his willingness to ask hard questions, even in difficult times," said Manchester College President Parker G. Marden. "Most political scientists analyze the world with matters of war taken as given. He questions, 'Must there be a war system at all?'"
Johansen was an important part of the development of Manchester College's program in Peace Studies, Marden noted. Established in 1948, the Peace Studies Institute and Program for Conflict Resolution at Manchester College pioneered as the first undergraduate Peace Studies program in the United States. The curriculum offers a major and minor in Peace Studies.
Johansen recently became a co-founding member of the first board of directors of e-Parliament, a worldwide forum for all elected members of congresses and parliaments throughout the world, conducted primarily on the Internet. The e-Parliament will discuss global problems that can be successfully addressed only through global solutions, Johansen said.
Manchester is a Church of the Brethren college, offering 45 areas of study to 1,170 students from 29 states and 33 countries. For more information about the college, visit www.manchester.edu