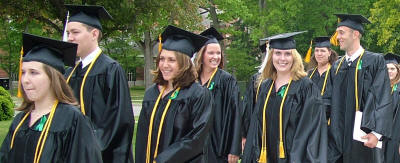 201, and two alumni, receive degrees
at Manchester College commencement
The Manchester College Class of 2007 received praise, blessings and much advice – from classmates, the interim campus pastor, alumni, an honoree and the College president – during commencement ceremonies Sunday, May 20.
The College conferred 201 undergraduate degrees, in areas ranging from education to marketing to accounting to athletic training to German to sociology to biology and chemistry. As they stepped across the stage, many wore green ribbons to symbolize they have taken The Graduation Pledge of environmental and social responsibility.
In addition, two alumni received honorary degrees: 1966 accounting grad William N. Harper, retired vice president and controller of Clark Equipment Co.; and 1964 business administration grad Samuel Gunnerson, retired leader of a healthcare and retirement facility development firm. Harper has chaired the board and The Next Step! fund-raising campaign; Gunnerson is serving his fourth term on the board.
Reminiscing on his nationally recognized success, Gunnerson also recalled faculty mentors, and offered up advice that served his business well. "As you go forward, ask two questions:
1. What is the best that will come of this decision I am going to make?
2. Will it be fun?"
At baccalaureate services and commencement, graduating students offered reflections of their own, frequently giving thanks to faculty who enabled them to stretch in the classroom, in laboratories and in overseas study and service. The words "ability and conviction" were frequently mentioned.
President Jo Young Switzer looked to the faculty seated before her. "I want to walk into the rows of faculty members and throw my arms out and say 'Did you hear what these students said about you? I am so grateful you chose to teach at this place.' "
It's anticipated that this class will continue the Manchester College tradition of stepping quickly into jobs, advanced study and research. Within six months, more than 97.6 percent of the Class of 2006 had jobs or were in graduate programs or medical school.
***summa cum laude **magna cum laude *cum laude
| | | | |
| --- | --- | --- | --- |
| Name | | Degree | Major |
| Jordan Adams | Nappanee, Ind. | BS | Marketing |
| Jeffrey Alexander | Kentland, Ind. | BS | Social Work |
| Deborah Allen | Warsaw, Ind. | BS | Management/Marketing |
| Stephanie Alva | Medaryville, Ind. | BS | Education |
| Lauren Bailey | Ogden Dunes, Ind. | BS | Education/Mild Intervention |
| Jessica Bair | Wabash, Ind. | BS | Political Science |
| Jeffrey Bauman | Rochester, Ind. | BS | Education/Mild Intervention |
| Brandy Bayles | Warsaw, Ind. | BS | Health & Physical Education |
| Dorothy Bennett * * * | Fairmount, Ind. | BS | Education |
| Eric Berger | Osceola, Ind. | BS | Social Work |
| Zachary Birely | Columbia City, Ind. | BA | Sociology |
| Erin Bowers | Fort Wayne, Ind. | BA | Education |
| David Brown * * * | Granger, Ind. | BS | Accounting |
| Melissa Bruns | Auburn, Ind. | BS | 5-12 English/Language Arts |
| Mallory Bucher | Wabash, Ind. | BS | Management |
| Robert Bucher | North Manchester, Ind. | BS | Management |
| Scott Bucher | Plymouth, Ind. | BS | Management |
| Alyssa Bullerman | Hoagland, Ind. | BS | Education/Mild Intervention |
| Dorehyl Bungitak | North Manchester, Ind. | BS | Education/Mild Intervention |
| Alicia Burkett | North Manchester, Ind. | BS | Biology-Chemistry |
| Richard Burnau | Huntington, Ind. | BS | Health & Physical Education |
| Jason Carmichael | Bloomington, Ind. | AA | Computer Applications |
| Stacey Carmichael * | South Bend, Ind. | BS | Education |
| Tai Cerney * | Mishawaka, Ind. | BS | Accounting |
| Ritodhi Chakraborty | India | BS | Environmental Studies |
| Jamie Charvat | North Manchester, Ind. | BS | Social Work |
| Anna Clark | Columbia City, Ind. | BS | Education/Mild Intervention |
| Kellis Coffman * | Heath, Ohio | BS | 5-12 English/Language Arts |
| Angela Cox | Goshen, Ind. | BA | Psychology |
| Samuel Cox * * * | Kokomo, Ind. | BA | History/German |
| Katie Crosby | Monticello, Ind. | AA/BS | Education (non-teaching) |
| Kiley Dague | Rochester, Ind. | BS | Education |
| Ashley Davis * | Logansport, Ind. | BA | Accounting |
| Kevin Day | Akron, Ind. | BS | Biology-Chemistry |
| Tapash Deb | North Manchester, Ind. | BS | Chemistry/Computer Science |
| Jodi Dell | Rochester, Ind. | BA | Accounting |
| Peter Dobberstein | Brookville, Ohio | BS | Mathematics |
| Samantha Dodd | Mishawaka, Ind. | BS | Social Work |
| Michael Dymond * | Chelsea, Mich. | BS | Education (non-teaching) |
| Mary Eberhardt | Mishawaka, Ind. | BS | Exercise Science |
| Brandy Elliott | Monterey, Ind. | BS | Education |
| Christian Englert | Summerville, S.C. | BS | History |
| Ryan Evans | South Bend, Ind. | BS | Education/Life Sciences |
| Nathan Fansher * | Noblesville, Ind. | BS | Management |
| James Forbes | Sarnia, Ontario | BS | Exercise Science/Athletic Training |
| Miranda Ford | Indianapolis, Ind. | BS | English |
| Sarah Fowler | Roanoke, Ind. | BS | Peace Studies |
| Ryan Fox | Richmond, Ind. | BS | Marketing |
| Christopher Friend | Garrett, Ind. | BS | Marketing |
| Carrie Fry-Miller | North Manchester, Ind. | BA | Peace Studies |
| Joshua Gallmeyer | Wolcottville, Ind. | BA | Education |
| Megan Gallmeyer * | Albion, Ind. | BS | Education |
| Joel Garber | North Manchester, Ind. | BS | Communication Studies |
| Wesley Gardner | Columbia City, Ind. | BS | Management |
| Hani Ghazi | Jerusalem, Israel | BA | Engineering Science |
| Heather Gibbons | Rochester, Ind. | BS | Business Administration |
| Erica Gibson | Wabash, Ind. | BS | K-12 Visual Arts |
| Matthew Goins | Celina, Ohio | BS | Marketing |
| Laurie Gribschaw | Valparaiso, Ind. | BS | Athletic Training/Exercise Training |
| John Grogg | Marion, Ind. | BS | Environmental Studies |
| Season Groninger | Silver Lake, Ind. | BS | Psychology |
| Jamie Guthrie | Bedford, Ind. | BS | Sociology/Psychology |
| Sheba Guthrie | Wabash, Ind. | BS | Psychology |
| Christopher Hamlyn * | Muncie, Ind. | BS | Athletic Training/Exercise Science |
| Derek Hammond | New Carlisle, Ind. | BS | Accounting |
| Audrey Hampshire | Kendallville, Ind. | BS | History/Peace Studies |
| Andrew Harber | Columbia City, Ind. | BS | Management/Marketing |
| Katherine Harness | North Liberty, Ind. | BS | Education |
| Abby Harper | Panora, Iowa | BS | Biology-Chemistry |
| Jonathon Hart | Auburn, Ind. | BS | Computer Science |
| Katelin Harvey * * | Warren, Ind. | BS | Education |
| Levi Haupert * * * | Peru, Ind. | BS | Chemistry/Religion |
| Amanda Hayward | Angola, Ind. | BS | Education/Mild Intervention |
| Joshua Heaston | Fort Wayne, Ind. | BS | Education |
| Garth Heater | Logansport, Ind. | BS | Athletic Training |
| Danelle Henry | North Webster, Ind. | BS | Social Work |
| Eli Hersberger * | Anderson, Ind. | BS | 5-12 Social Studies |
| Jessica Hicks | Wawaka, Ind. | BS | Sociology |
| Kathryn Hinga | Goshen, Ind. | BS | English |
| Adam Hoover | Elkhart, Ind. | BS | Philosophy |
| Allison Hoover | Flossmoor, Ill. | BS | Music/K-12 Music (Instrumental) |
| Joseph Hoover * | Noblesville, Ind. | BS | Biology-Chemistry |
| Allison Hunt | Fortville, Ind. | BS | Sociology |
| Daidra Jagger | North Manchester, Ind. | BS | Education/Mild Intervention |
| Larissa James | Knox, Ind. | BS | Marketing |
| Kate Jastrezemski | Fort Wayne, Ind. | BS | Social Work |
| Aaron Jones | Lafayette, Ind. | BS | Management/Non-Profit Mgmt. |
| Brent Jones | Sharpsville, Ind. | BA | Art |
| Megan Julian | Greenville, Ohio | BS | Communication Studies |
| Rebecca Kane | Greenville, Ind. | BA | Small Business Management |
| Ming-Du Kang * | Taipei, Taiwan | BS | Engineering Science |
| Andrew Kauffman | Goshen, Ind. | BS | Computer Science |
| Sara Kauffman * * * | Nappanee, Ind. | BS | Education |
| Mark Keen | Momence, Ill. | BS | Mathematics |
| Scotty Kelly | Gary, Ind. | BS | Physical Education |
| Chester Kelsey | Roann | BS | Philosophy |
| Allison Kesteloot * * | North Muskegon, Mich. | BS | Education/Mild Intervention |
| Michelle Kiefer | Goshen, Ind. | BA | Education |
| Stephanie Knox | Fort Wayne, Ind. | BS | Computer Science/Mathematics |
| Daniel Kornexl | Huntington, Ind. | BS | Finance |
| Kendal Kosta | Rensselaer, Ind. | BA | Sociology |
| Tyler Kottkamp | Akron, Ind. | BA | Education |
| Rachel Lake | Portage, Ind. | BA | Communication Studies |
| Kunsang Lama | Kathmandu, Nepal | BS | Marketing |
| Thea Lamb | Monroeville, Ind. | BS | Social Work |
| Andrew Leavens * | Milroy, Ind. | BA | Spanish |
| Ashley Libben * * | Albion, Ind. | BA | 5-12 English/Language Arts |
| Ashley Lichtenbarger | South Bend, Ind. | BA | History |
| Emma Lowman * | Niagara Falls, N.Y. | BS | Biology-Chemistry |
| Audrey Lucker | North Manchester, Ind. | BS | Music |
| Nadeen Ma'ayeh | Jerusalem, Israel | BS | Marketing |
| Angela MacInnes | Chicago, Ill. | BS | Education/Mild Intervention |
| Jared Markham | Goshen, Ind. | BS | K-12 Health & Physical Education |
| David Mattingly | Vincenne, Ind.s | BS | Psychology |
| Brogan McMullen | Rockville, Ind. | BS | Management |
| Dustin McNab | Carmel, Ind. | BS | Financial Accounting |
| Jordan Miller | Peru, Ind. | BS | Accounting |
| Celsie Myers | Delphi, Ind. | BS | Education/Mild Intervention |
| Kristen Neuenschwander | Ossian, Ind. | BS | Athletic Training |
| Joshua Nifong * * | Warsaw, Ind. | BS | Finance |
| Amanda Nordmann * | North Manchester, Ind. | BS | K-12 Visual Arts |
| Mark Norris | Angola, Ind. | AA | Criminal Justice |
| Andrea Numbers | Woodburn, Ind. | BA | Spanish/Biology-Chemistry |
| Tonny Nyenje | Randolph, Mass. | BS | Finance |
| Claire Olson | Portland, Ore. | BS | Athletic Training |
| Ashley Owens | Mentone, Ind. | BS | Sociology |
| Kevin Phelps | Brookston, Ind. | BS | Exercise Science |
| Kelly Picard * | North Muskegon, Mich. | BS | Psychology |
| Meganmarie Pinkerton * * | Trotwood, Ohio | BA | Education/Mild Intervention |
| Tiffany Portz | Warsaw, Ind. | BA | Accounting/Psychology |
| Leanne Rakestraw | Fremont, Ind. | BS | Education/Mild Intervention |
| Jesse Reid | Richmond, Ind. | BS | Communication Studies |
| Marilyn Reish | Millboro, Va. | BA | Philosophy |
| Andrew Reust | Huntington, Ind. | BS | Economics |
| Joel Richard * | Goshen, Ind. | BA | Management |
| Neil Rodenbeck | Laotto, Ind. | BS | Communication Studies |
| Daniel Rodriguez | Venezuela | BA | Engineering Science |
| Amanda Russell | Elkhart, Ind. | BS | Social Work |
| Sarah Samblanet * * | Hamilton, Ohio | BS | Psychology |
| Jody Sarber | Nappanee, Ind. | BS | Mathematics |
| Brianne Sawa | Chesterton, Ind. | BS | Psychology |
| Dru Scott | Mulberry, Ind. | BS | Athletic Training |
| Joshua Scott | Fort Wayne, Ind. | BS | Athletic Training |
| Stephanie Scott | Tippecanoe, Ind. | BS | Psychology |
| Zachary Scott | Mishawaka, Ind. | BS | 5-12 Mathematics |
| Ryan Seal | Fountain City, Ind. | BS | Marketing |
| Arienne Shambarger | Roann, Ind. | BS | Communication Studies |
| Michael Sheets | Flora, Ind. | BS | Management |
| J D Showley | Rochester, Ind. | BS | History |
| Nicole Sieracki | McHenry, Ill. | BS | K-12 Health & Phys Ed/Adapted PE |
| Nickolas Simons | Bristol, Ind. | BA | Spanish/Peace Studies |
| Holli Smead * * | Harlan, Ind. | BA | Interdisciplinary |
| Holly Smith | Swanton, Ohio | BS | Athletic Training |
| R. Zachary Smith | Warsaw, Ind. | BS | Marketing |
| Joshua Sollenberger | Annville, Pa. | BS | Political Science |
| Thomas Sons | Hobart, Ind. | BS | Physical Education |
| Matthew Souder | Auburn, Ind. | BS | Psychology |
| Michael Spaulding | North Vernon, Ind. | BS | Music |
| Brandon Squibb | Elkhart, Ind. | BS | K-12 Physical Education |
| Scott Stalbaum | Hebron, Ind. | BS | 5-12 Social Studies |
| Rachelle Steggerda | Valparaiso, Ind. | BA | 5-12 Mathematics |
| Matthew Stillson | Bremen, Ind. | BS | Management |
| Joshua Stork | Warsaw, Ind. | BS | Athletic Training |
| Sarah Story | Saint Paris, Ohio | BA | Education |
| Caroline Strahammer * | Monroe, Ind. | BS | Education/Mild Intervention |
| Jessica Strange * * | Marion, Ind. | BS | Education/Mild Intervention |
| R. Subrahmanyam | Manama, Bahrain | BS | Psychology |
| Matthew Talarico | Fort Wayne, Ind. | BS | History |
| Scott Tarnowski | Roanoke, Ind. | BS | Accounting |
| Kimberly Thiede | Richmond, Ind. | BS | Social Work |
| Crystal Thomas | Rensselaer, Ind. | BS | K-12 Visual Arts |
| Deborah Thompson | Auburn, Ind. | BS | Peace Studies/Philsophy |
| Julie Thompson | Delong, Ind. | BS | Psychology |
| Kathryn Thompson * | Goshen, Ind. | BA | Finance |
| Brock Treesh | Kendallville, Ind. | BS | Sociology |
| James Tyner * * | Beavercreek, Ohio | BA | Economics/Management |
| Tamara Ulman | Rolling Prairie, Ind. | BS | Exercise Science |
| Camilo V. Mejia | Managua, Nicaragua | BA | Political Science |
| Ashley Vice | Garrett, Ind. | BS | Education/Mild Intervention |
| Taylor Vice * * | Fremont, Ind. | BS | Chemistry |
| Kathryn Wagoner | Fort Wayne, Ind. | BS | Biology |
| Marc Walter | South Whitley, Ind. | BS | Education |
| Alisha Walz | Goshen, Ind. | BS | Education |
| Mitchell Waters | Johnston, R.I. | BS | Physical Education |
| Molly Waters | Huntertown, Ind. | BS | Sociology |
| Melissa Weirich | Middlebury, Ind. | BS | Exercise Science |
| Rebecca Wheaton | Orland, Ind. | BS | Social Work |
| Carly White | Granger, Ind. | BS | Psychology |
| Angela Wilcox * * * | Etna Green, Ind. | BS | Accounting |
| Anne Wise | Mentone, Ind. | BS | Psychology |
| Joshua Wolfe | Auburn, Ind. | BS | General Business |
| Tyler Wolfe | Waterloo, Ind. | BS | Education |
| Danalyn Zehring | Bunker Hill, Ind. | BS | Education/Mild Intervention |
| Anita Zollars * | Ligonier, Ind. | BS | Education/Mild Intervention |
President Switzer's


Harper and Gunnerson