Judy O'Bannon, new graduates
take key podium roles
in 2006 graduation ceremonies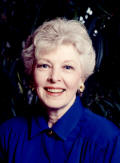 Former Indiana First Lady Judy O'Bannon will deliver the 2006 commencement message and receive an honorary degree at Manchester College on Sunday, May 21. About 216 students will receive bachelor's degrees, 10 will receive masters of accountancy degrees and one will receive an associate's degree, said Registrar Lila D. Hammer.
Graduating seniors have several key podium roles on Graduation Day. Music major James B. Hutchings of Wabash will offer reflections at the 2:30 p.m. commencement in the Physical Education and Recreation Center (PERC). Earlier in the day, he will direct the College's A Cappella Choir in his arrangement of Kwmbaya for 11 a.m. baccalaureate services in Cordier Auditorium.
Spanish and music major Sarah A. Reed of Mishawaka, Ind., and peace studies major Benjamin G. Leiter of New Windsor, Md., will offer reflections at baccalaureate, and education major Meagan E. Harlow of Clayton, Ohio will call the congregation to worship and deliver the invocation. Sociology major Kelsey D. Swanson of Elgin, Ill., will give the benediction at commencement and religion major Eric M. Strobel of Indianapolis will read scripture for baccalaureate.
President Jo Young Switzer will deliver the charge to graduates and confer the honorary degree of Doctor of Humane Letters on Judy O'Bannon, a lifelong community activist and volunteer. The widow of Gov. Frank O'Bannon also shares leadership of Indianapolis Peace House, a Plowshares collaboration of the state's three historic peace colleges – Manchester, Earlham and Goshen. She continues to advocate for education, the environment and community development.
A large percentage of Manchester College's 2006 graduates and faculty members will wear small green ribbons on their gowns, signifying they have taken The Graduation Pledge of Social and Environmental Responsibility. The pledge, headquartered at Manchester College with more than 100 member colleges and universities, is voluntary:
I pledge to explore and take into account the social and environmental consequences of any job I consider and will try to improve these aspects of any organizations for which I work.
Manchester College, with 1,104 students from 25 states and 30 countries, offers 45 areas of study. For more about the college, visit www.manchester.edu