95-year-old political activist
"Granny D"
to speak at Manchester on Nov. 7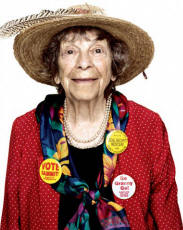 Doris "Granny D" Haddock, who has walked thousands of miles across America on a crusade for campaign reform and voter registration, is traveling to Manchester College to deliver the weekly convocation on Monday, Nov. 7. Neighbors of the college are invited but seating is limited for her speech, which begins promptly at 10 a.m.
"Granny D" also will speak at 3 p.m. in the Assembly Room of Timbercrest Retirement Community, in an event coordinated by the North Manchester Shepherd's Center.
Haddock, famous for her 3,200-mile trek across deserts, up mountains and through snow in 1999 at the age of 89, will discuss campaign finance reform. Granny D's visit to Manchester College is financed by Plowshares, a Lilly Endowment-funded collaboration of Indiana's three historic peace campuses, Manchester, Earlham and Goshen colleges.
Her memoir, published by Random House, is entitled, "You're Never Too Old to Raise a Little Hell." Washington, D.C., knows her well for her rallies, walking fasts and demonstrations. For more about Granny D, visit www.grannyd.com