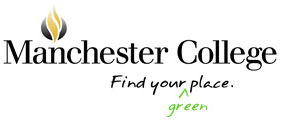 Manchester College launches web site
for its Green Campus Initiative
Just about everywhere you look on campus, and even some places you can't see, Manchester College is getting greener. The Green Campus Initiative task force set out about a year ago to consolidate efforts to make the 100-acre northern Indiana campus more environmentally friendly and energy-efficient.
The initiative permeates campus, from four new energy-efficient boilers in the 186-resident Schwalm Hall to more environmentally-friendly cleaning products, as well as other initiatives, such as the Scrape Your Plate project to minimize food waste in the dining hall and leadership in a $1 million multi-agency initiative to clean up the Eel River.
"Manchester has been green for a long time, but nobody has consolidated all these efforts until now," said Dale Carpenter, director of human resources and chair of the Green Campus Initiative task force. "It is part of Manchester's culture to be good stewards, and this is good stewardship of the resources that we have."
Manchester has been recycling cans, for example, for more than 25 years and recently received a highly competitive grant from the Coca Cola/National Recycling Coalition for campus recycling bins. The College was among only 85 recipients of more than 1,400 applicants for the grant.
The College's environmental studies program is one of the oldest in the United States, with three study tracks: policy, technical and natural history. The school also offers a minor in the field.
A campus sustainability policy provides guidelines for students, faculty and staff for effective use and conservation of College resources, listing 15 actions that will help reduce solid waste, and energy and water consumption.
The new web site provides scores of tips that get right to the nitty-gritty of everyday conservation, from not printing out emails to taking short showers and using bikes instead of cars to run downtown. Good ideas crop up every time folks get together to discuss going green, said Carpenter.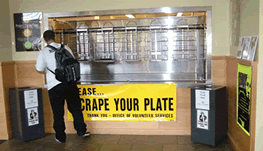 Plate scrapings are taken by a local farmer for feeding to pigs and goats, for example. The scrapings are measured, and Chartwells food service donates the savings in food waste to local charities. Signs in Haist Commons remind diners to take only what they will eat and to scrape their own plates to raise consciousness about waste.
Bins on campus collect batteries, paper, cardboard, bottles, plastic and cans for recycling. The College also has recycling arrangements for computer hardware, printer cartridges, scrap metal and motor oil.
The initiative brings it all together on the new Green Campus Initiative web site, a collection point for Manchester College's green projects, a Stewardship Pledge for students and employees, its sustainability policy, ways to "go green," lots of links and factoids, and the Graduation Pledge of social and environmental responsibility. The site also has an on-line meter of electric and gas usage on the campus. The address: www.manchester.edu/Common/greencampus/index.html.
Links on the web site range from activism opportunities, to green jobs, products and businesses. There's even a suggestion "box."
The task force realizes the initiative is an on-going commitment that requires engagement by everybody in the College community, said Carpenter. More energy-efficient boilers for all residence halls, for example, will depend on financing, as will other efforts to reduce the carbon footprint of campus.
"Many of our green initiatives require a lot of up-front investments," Carpenter noted. The College has not set its next fund-raising campaign.
For a donation of $500, alumni, classes and other friends of the college can have a commemorative tree purchased and placed on campus. To give to this program, contact the Office of College Advancement, 260-982-5384 or giving@manchester.edu. Trees absorb carbon dioxide and give off oxygen, helping to fight global warming, and add to the beauty of campus.
May 2009