Students use spring break
to build houses for Kentucky families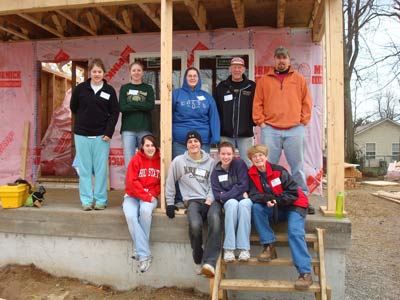 A team of volunteers traveled to Kentucky to help build homes for low-income families when Manchester College's Habitat for Humanity chapter took its 21st spring break. The team of 10 students and a faculty and staff member stayed in Lexington from March 15 to March 20.
The Manchester College group joined students from University of New Hampshire for the spring break project, which included roofing and other construction. Manchester's students represented a range of majors, from education to business, exercise science, Spanish and social work.

"I always look forward to this," said Brad Yoder, professor of sociology and social work and faculty advisor for the Manchester College chapter of Habitat for Humanity. "It's so exciting to work with families and hear from them how big a difference it's going to make in their lives to have a home."

The Manchester chapter raised money for the Kentucky travel and building expenses by raking leaves and with its annual Shack-a-thon fundraiser, spending a night in a makeshift cardboard shelter on the College mall.

Manchester's team:

Emily Ballinger of Delaware, Ohio, first-year student, exercise science
Tiffany Berkebile of Walkerton, Ind., sophomore, communication studies/Spanish
Allison Gallahan of Peru, Ind., first-year student, secondary education
Whitney Gray of Pendleton, Ind., senior, social work
Alex Hall of Warsaw, Ind., first-year student, general business
Ashley Keith of Deshler, Ohio, first-year student, political science
Melissa Shoufler of Bristol, Ind., senior, management
Jeremy Stackhouse of Hamilton, Ind., senior, management
Joy Groninger of Silver Lake, Ind., Manchester College director of publications and design
Service is in the mission of Manchester College. Last school year, MC students contributed more than 19,000 hours of service. To read more about the North Manchester liberal arts college, visit www.manchester.edu.

Learn more about
Habitat for Humanity