Leading advocate of independent
colleges to deliver
The Harry H. Henney '35 Lecture
The president of The Council of Independent Colleges will present The Henry H. Henney '35 Lecture on Thursday, Oct. 19 at Manchester College. Richard Ekman, Ph.D., will speak on "Independent Higher Education and America's Future" at 5 p.m. in Wine Recital Hall. A reception will follow in the adjacent Link Gallery. The public is invited.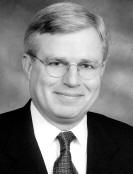 Highly respected as an advocate for independent colleges, Dr. Ekman has served in leadership positions for the National Endowment for the Humanities and the Andrew W. Mellon Foundation. A former vice president and dean of Hiram College in Ohio, he serves on the National Advisory Committee of the Yale-New Haven Teachers Institute, the Advisory Board of the Johns Hopkins University Press and the Board of Overseers Visiting Committee to the Harvard University libraries.
Founded in 1956, The Council of Independent Colleges is an association of more than 570 independent colleges and universities working together to support college and university leadership, advance institutional excellence and enhance private higher education's contributions to society
Dr. Jane E. Henney, a 1969 graduate of the College, established The Harry H. Henney '35 Lecture to honor her father and his 40 years as a northern Indiana educator. Mr. Henney, 93, was a teacher at Maumee Township School, business manager and principal – retiring from what is now East Allen County School District in 1977. He also served six terms as clerk-treasurer of Woodburn, Ind., where he and his wife Jeanette reside. Dr. Jane Henney is senior vice president and provost for health affairs for the University of Cincinnati.
. For more about the Council of Independent Colleges, based in Washington, D.C., visit http://www.cic.edu/index.asp
Manchester is an independent college of the Church of the Brethren with 1,056 students from 27 states and 26 countries.