2008 Homecoming & Family Weekend
October 10-11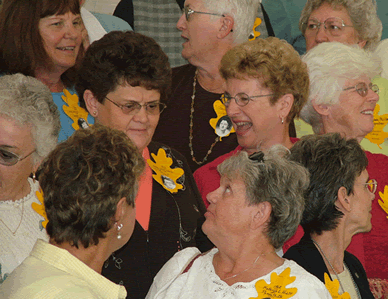 Old friends, new memories
at Homecoming and Family Weekend
Alumni and families of Manchester College students are invited to celebrate together this Friday and Saturday, Oct. 10-11, Homecoming and Family weekend. Every one of the hundreds of visitors – from toddler to senior citizen – will find fun-filled events on the North Manchester campus.
Choir and band alumni take the stage at 7:30 p.m. Friday night to join the Homecoming Concert of the Symphonic Band and A Cappella Choir. The public is invited to the free concert in the upper College Union. (Rehearsal is 3 p.m. Friday for alumni in town early.) Among returning alumni is artist Amós Rodriguez '06 of Indianapolis, whose work is displayed in Gallery G of the upper Union. He will discuss his artwork before and after the concert.
Saturday evening, Dale K brings his seriously funny, contemporary approach to hypnosis to the Cordier Auditorium stage in a program for all ages. The fun starts at 8 p.m., free for students and children, $8 for adults.
Special alumni events fill Homecoming Saturday for eight classes as well as Young Alumni who have graduated within the past 10 years. Registration begins at 9 a.m. in the College Union for members of the classes of 1963, 1968, 1973, 1978, 1983, 1988, 1993 and 1998. Class photos begin promptly at 11:10 a.m., also in the Union. Young Alumni gather in their own tent near the football field. East Hall alumni have an 11:30 a.m. luncheon in their former residence.
The M Association will honor Lewis Cass High School Coach Scott Mannering '79 as its 2008 Claude Wolfe Coach of the Year. No reservation is necessary to join the reception and luncheon at 10:30 a.m. Saturday in the upper PERC.
Manchester and Defiance meet on Carl W. Burt Field at 1:30 p.m.
Children's activities, under the watchful eye of the College's education majors, will continue all morning in Haist Commons of the College Union. A carnival runs 1-4 p.m. on the athletic fields, sponsored by the Student Alumni Council.
To register for class reunions and for a complete schedule of Homecoming and Family Weekend at Manchester College, click here, visit www.manchester.edu or call the Alumni Office, toll-free 888-257-2586 or 260-982-5223.
Other weekend events:
Shakespeare's Twelfth Night – 7:30 p.m. Thursday and Saturday; 2 p.m. Sunday, Wampler Auditorium, $5, students free
M Association golf – 11 a.m. Friday, Honeywell Golf Course in Wabash; reservations $50
Alumni Baseball – 9 a.m. Saturday, Gratz Field (8:30 a.m. registration-reception, Haist Commons)
Breakfast with President Jo Young Switzer – 9:30 a.m. Saturday, The Café, $6
Cook-off: Young Alumni vs. Current Students – noon Saturday, Young Alumni Tent
Men's soccer vs. Holy Cross College – noon Saturday
Women's soccer vs. St. Mary of the Woods –2 p.m. Saturday