Tim Polakowski receives state's top
student honor for community building
Carole Miller-Patrick, Ingrid Rogers also honored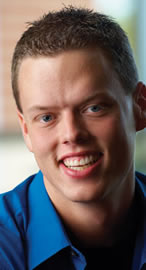 Manchester College is in the state limelight for its campus-community service connections.
An Indiana network of college campuses dedicated to service learning and civic engagement has honored senior Tim Polakowski with its highest student award.
In addition, Carole Miller-Patrick, who coordinates Manchester College's service opportunities, and Professor Ingrid Rogers, who leads English as a Second Language tutors and mentored Polakowski, were finalists at the Indiana Campus Compact's 2008 Governor's Conference on Service and Volunteerism.
Polakowski received the Richard J. Wood Award recognizing his determination to build long-term partnerships that positively impact community problems. The honor student from Rockton, Ill., is carrying a double major in social work and Spanish, and a minor in gerontology, yet has squeezed considerable service into his career at Manchester College.
He collaborated with Professor Rogers in publishing a resource guide for Spanish-speaking residents of the College's hometown of North Manchester, and neighboring Akron, Ind. The free 105-page guide included schools, clinics, emergency contacts, legal services, churches, shopping, consulates and family resources, as well as maps, forms, Bureau of Motor Vehicle instructions and a wealth of information to help Spanish-speakers adjust to the community.
"Tim has a wonderful record of community service that extends far beyond the community surrounding Manchester College," said Miller-Patrick, finalist for the Community Service Director Award. "He is highly regarded for his work with ESL children and as a translator for teachers so that they can communicate with Spanish-speaking parents." Polakowski's service extends to Habitat for Humanity, a medical mission to Nicaragua, a Chicago health clinic and campus leadership.
Miller-Patrick coordinates a massive volunteerism mission that engages Manchester College students, faculty and staff in more than 19,000 hours of service annually. With her leadership, students tutor elementary children through the Indiana Reading Corps, spending more than 5,000 hours annually in area schools.
Professor Rogers was a finalist for the Brian Douglas Hiltunen Award honoring college faculty for outstanding contributions to the scholarship of engagement. She teaches Spanish, German and language teaching methods, and coordinates Manchester College volunteers who teach English as a Second Language in the Hispanic community.