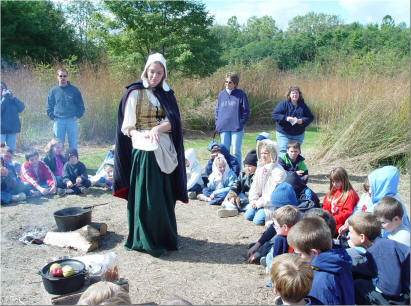 400 youngsters learn Indiana Heritage
at fun Manchester College program May 2-4
PIERCETON, Ind. – Abraham Lincoln's integrity and values helped him save the nation. Hundreds of youngsters in northeast Indiana know that. Hundreds more will happily learn the life lessons of Lincoln on May 2-4 at Manchester College's Koinonia Environmental and Retreat Center south of Pierceton.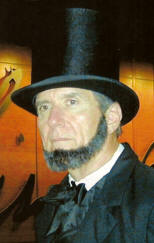 Bill Sanders' Lincoln is among a breadth of lessons the enormously popular Indiana Heritage Program brings to fourth-graders at Koinonia. Each day, bus loads of children from area schools will arrive with their teachers for four hours of learning and activity, said Koinonia Director Rainn L. MacPhail, biology instructor at the College.
The setting couldn't be more perfect: 100 acres of paths, restored prairie, a 5-acre lake for discovery and fishing, teaching rocks … and an activity center brimming with natural history.
Throughout, Indiana Heritage is about education, delivered in an interactive, fascinating environment. The children play pioneer games, sing, climb aboard a prairie schooner, listen to storytellers … and ask lots of questions. Enthusiastic presenters, re-enactors, artists, musicians and historians fill the day – many in period costume, including a fur trader, a Native American, and a Revolutionary War expert.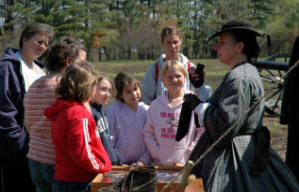 The children assert right away that Bill Sanders isn't really Abraham Lincoln, even though he seems pretty real in his lessons, his top hat and beard. But Sanders, a former Lincoln National Corp. vice president, is no ordinary Lincoln impersonator. He's a Lincoln scholar who faithfully uses the president's life as a model for achieving the American Dream … with stories that reveal Lincoln's honesty, integrity, loyalty, lifelong education and humor. He holds them rapt in his delivery of the Gettysburg Address. "We just connect. They seem to listen intently and we have fun together," says Sanders, a docent at The Lincoln Museum in Fort Wayne who also tailors his Lincoln messages to college and other adult audiences and leadership conferences.
Indiana Heritage fulfills state social studies requirements for fourth-graders in 10 areas, said Sue Gnagy, assistant director of Koinonia.
· Children learn about the importance of the Revolutionary War and other key events and people in the development of the state, including Chief Little Turtle, William Henry Harrison and George Rogers Clark.
· They learn about the Civil War, and about religious groups, The Underground Railroad, and Levi and Catherine Coffin.
· They learn about Indiana's artists, authors, performers and presenters – from Gene Stratton-Porter to Janet Scudder and the Hoosier Group.
While schools pay a per-student fee of only a few dollars, the program is possible through generous donations from the Dekko Foundation, Kosciusko County Community Foundation, Community Foundation of Wabash County, Biomet, DePuy Orthopaedics and Bart's Water Sports.
About 4,000 students from area schools participate in Koinonia's programs annually, primarily from Kosciusko, Wabash, Whitley, Allen and Noble counties. To schedule classes, groups or home-schoolers at the center, contact Director Rainn MacPhail at 260-982-5010 or rlmacphail@manchester.edu.