Four campus organizations
unite to strut fashion
from around the world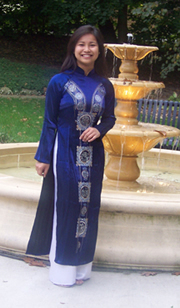 The cultural diversity that is Manchester College will "Strut for a Cause" down the runway of an International Fashion Show on Friday evening, Oct. 26. Students will model fashions from more than 18 countries – from Cameroon to Zimbabwe. The show begins at 7 p.m. in Wampler Auditorium, followed by refreshments.
"This is an exciting event that brings together the North Manchester community and our college campus while presenting students from different backgrounds the opportunity to share their cultures though fashion," said Jacqueline Nagila, director of multicultural services and campus diversity.
This student-led event is sponsored by the Black Student Union, Asian Awareness Association, Hispanos Unidos and the International Association.
All clothes are authentic … international students were reminded to pack fashion from their countries. "Even our new students were able to bring clothes from their countries," Nagila noted. Manchester College is temporary home to students from 23 countries.
"Over the years, the fashion show has evolved from the traditional runway bursting with fashion to one that is focused on raising awareness on global issues," Nagila said, noting that this year, the fashion show focuses on cancer awareness, "encouraging all of us to be active participants in its eradication."
The show is dedicated to the memory and life of Josephine Wollman Fuller, a daughter of Abby Fuller, associate professor of sociology, and Neil Wollman, former professor of psychology. Eight-year-old "Scout," who was practically raised on the MC campus, died of cancer July 7. Show-goers will be invited to donate to the The Scout Fuller Fund for Social Justice.