College's multicultural fashion show
steps out this Friday, Oct. 3
Fashion the MC Way, a multicultural fashion show, hits the runway at Manchester College on Friday, Oct. 3. Students, faculty and staff will model fashions from more than 22 countries – from Ethiopia and the Philippines to the Mexico and the United States. The free show begins at 7 p.m., on the Cordier Auditorium stage.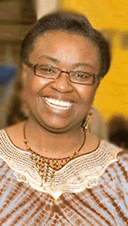 "We are promoting diversity by way of fashion while providing the community with the opportunity to interact with members of our community from around the globe," said Jacquilline Nagila Nagila, director of multicultural services and campus diversity.
"It's wonderful to have so many different nationalities in a small town represented and we want to be able to share it with the community," said senior marketing and management major Moala Penitani, who will model clothes from Tonga, her parents' birthplace.
All clothes are authentic, with more than 40 models participating. International students were reminded to pack heritage clothes from their countries before setting off for the North Manchester campus. Manchester College is temporary home to students from 25 countries and 25 states. (Their homeland flags fly in the main hallway of the Administration Building.)
"We have a hand-woven cotton Abesha Kemise with gold embroidery from Ethiopia, beautifully patterned black-and-gold attire from Nigeria, a Barong Ragalog shirt from the Philippines made out of pineapple fiber, a Batik robe from Indonesia, a happi coat with bamboo Kanji design from Japan, a lot of interesting outfits students wear to class here at MC, and so much more!" said Nagila, who was born in Kenya.
For more about multicultural affairs, the campus intercultural center and other international opportunities at Manchester College, click here. To connect with the Office of Multicultural Affairs,call 260-982-5005.