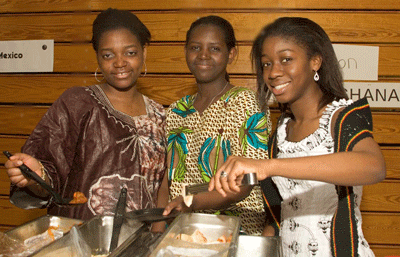 Manchester College serves up
an international journey
with Sunday, April 5 buffet
More than 500 students and guests from near and far are in for a real treat this Sunday, April 5 at the International Buffet.
They'll want to try senior Maria Moala Penitani's fruity "oti" drink from her parents' homeland of Tonga in the South Pacific. The culmination of milk and fruit takes three days to prepare, notes the marketing major, who is among dozens of students, faculty, staff and friends who will serve up the buffet from 11 a.m. to 2 p.m. Sunday in the College Union.
The public is welcome to the International Buffet, which has grown into a community party. Reservations are not necessary. Tickets at the door are $9 for adults, $5 for children, and free to Manchester College students on a meal plan.
The buffet showcases foods and customs from at least 16 countries, said first-year political science major Benjamin Tapper of northwest Indiana, who is co-coordinating the biennial affair with senior political science major Tihitina Dagnew of Ethiopia and senior computer science major Kamau Maina of Nairobi – with guidance from Jacquilline Nagila of Kenya, director of multicultural services and campus diversity.
Already on the menu are tastes of Palestine, Vietnam, Nigeria, Uganda, Philippines, Kenya, Ethiopia, China, India, Nepal, France, Mexico, Iran and the United States.
Chartwells, the College's food service, will assist the temporary international chefs and offer up menu items, too. The international students, dressed in their native clothing, will serve entrees, desserts and side dishes.
International experiences abound on the Manchester College campus, home to students from 25 countries. Learn more about multicultural affairs at Manchester College at www.manchester.edu.
March 2009