Click here to learn more about Multicultural Affairs at MC
International Fair shares flavors,
music, dance of many cultures
with College's neighbors
Manchester College sophomore Ha Phan smiles longingly when she talks about her parents, 4,000 miles away in Hanoi, Vietnam. "I never understood how important family is," said the finance major. "It's not something you think about until you are so far away from them."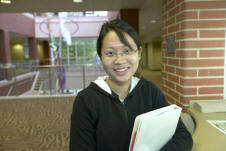 On Sunday, April 23, Phan will bring a little bit of home to her new friends in Wabash County, when she serves up a version of her mother's Vietnamese salad at the International Fair. "My salad is modernized," she said. "My mom used bean sprouts and I'm not, and I don't think she used chicken, which will be in mine."
Phan and other international students and faculty will share bits of their homelands with an expected 1,000 guests at the International Fair. The biennial celebration of Manchester College's diversity runs from noon to 6 p.m. in the Physical Education and Recreation Center (PERC), on the east side of the North Manchester campus. Admission is free.
All afternoon, professional performers from Asia, Africa, the Middle East, the Caribbean and Mexico will perform. The popular Minyo Dancers will return with their traditional Japanese dances, said Dr. Peter N. Gitau, director of multicultural affairs, whose homeland is Kenya, in East Africa. An MC student dance group also will perform and give salsa lessons. Many international students will have booths with samples of dishes and items from their homeland. The entire PERC will be filled with activities, dancing and food-tasting, and there even will be a petting zoo outside!
Currently, 63 international students are studying at Manchester College, from 29 countries.

Some students are participating in the International Fair to promote causes that draw their passion. Farida Adam's family fled Cambodia to Thailand to escape genocide. "I will be representing the Asian Awareness Association at the fair," said the sophomore political science major. "I am a second-generation survivor of the Cambodian genocide, so I feel like I have to do something."
Adam's parents were among 600,000 refugees who fled Cambodia to Thailand, where they were put into concentration camps. It was through a Christian group affiliated with Canada that they were able to leave, and ultimately end up in the United States, she said. More than a million people were killed in the Cambodian genocide.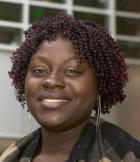 Seniors like Flora Dibal are looking to make their final International Fair a memorable one. "(The International Fair) is very important to Manchester because North Manchester is not diverse," said Dibal, a biology-chemistry major from Nigeria. "Having members of the public partake will help them know about more countries.
"We have many countries represented here, so it'll be a great opportunity for people to come and experience the diverse student body that we have here at Manchester."
For more about international diversity and programs at Manchester College, contact the Office of Multicultural Affairs at 260-982-5276, or visit www.manchester.edu