noon to 5 p.m.
Sunday, April 13


Travel the world at the International Fair
this Sunday at Manchester College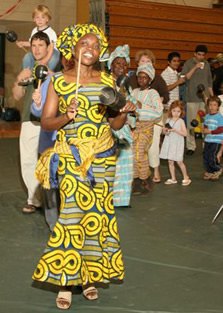 Visitors will get a genuine taste of the world when they step into the 2008 International Fair on the Manchester College campus this Sunday, April 13. They'll step into a swirl of music and chatter, dancing and tempting scents of foods of many cultures.
"This is one of my favorite times of the year," says senior Farida Adam, originally of Cambodia. "Not only am I excited that everyone gets to learn about so many different cultures through the shows and through viewing the different clothing our students have on, but I'm greatly excited about the food! It's always been scrumptious!"
The extravaganza will fill the Physical Education and Recreation Center (PERC) on the east side of the North Manchester campus from noon to 5 p.m. Sunday.
More than 1,000 visitors are expected to enjoy the free event, with student and professional performances ranging from dancing to drumming, activities for children, exhibits and food. Expect to visit Ethiopia, Kenya, Uganda, Cambodia, Palestine, Uzbekistan, China, India, Jamaica, the Philippines, France, Mexico and other countries.
Adam, a political science major, plans to help with the cooking for the booths, done in the College kitchen, supervised by food service employees. "It's a chance for Manchester College's international students to give the college and our community insight and a taste of somewhere across the oceans that they may have never ever even thought about!"
Manchester College students and faculty represent more than 24 countries. "This bi-annual International Fair supports the mission and values of Manchester College of celebrating diversity," said Jacquilline Nagila, director of multicultural services and campus diversity.
"Our hope is that the event will catalyze conversations that surround cultural differences, and the appreciation and recognition of these differences as unifying agent."
The massive production is generously underwritten by The Community Foundation of Wabash County, Manchester College Community Club, Plowshares and Manchester College.