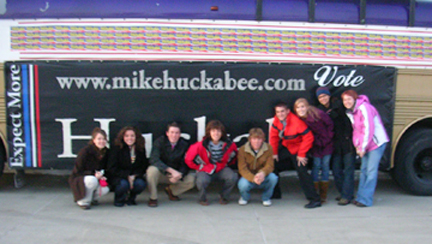 Posing before the "Huck-a-Beast" bus that carried Mike Huckabee around Iowa for the pre-caucus events, from left: Jennifer Schoenle, Kristi Sattison, Benjamin Martin, Stephen Hendricks, Andrew Doub , Jason Ray, Holly DeNeve, Ellen Zemlin and Jessica Smith.
Manchester students head to Iowa
for close contact
with presidential caucuses
A class of 15 Manchester College students and their professor are jumping into the thick of the Iowa caucuses.
As they study the 2008 presidential campaign, the students are attending pre-caucus events, volunteering for candidates of their choice and observing precinct caucuses for Republicans and Democrats. While Manchester students in "Contemporary Politics: Presidential Campaign" are learning about nomination politics, we can learn along with them by reading a class blog, said Professor Leonard Williams.
Students must post to mccaucus.blogspot.com at least daily. The blog is a journal for class members, but the general public also has access, so students are prepared to reply to readers. Students will blog about their campaign activities and their impressions of the campaigns and the caucuses.
"This class gives them first-hand experiences about presidential politics in an exciting election year," said Williams. "The students are discovering how Iowans assess the candidates and hone their own skills for analyzing presidential campaigns." They departed Dec. 31, are observing and campaigning in Des Moines and Ames, and will continue their studies on campus Jan. 7.
Students are volunteering for a diverse field of candidates, with considerable interest in Democrats Barack Obama and John Edwards, as well as Republican John McCain. Other Republican candidates selected by the students include Rudy Giuliani, Fred Thompson and Mike Huckabee. Students also are campaigning for Democrats Dennis Kucinich and Bill Richardson.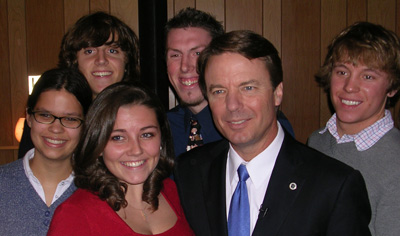 The trip is among nine off-campus classes world-wide offered by Manchester College during its three-week January Session. (More than 50 classes meet daily on campus, and students also are doing internships and individual study.) When the political science class returns from Iowa, students will study the influence of the caucuses on the nomination campaign.
During election times particularly, political scientist Leonard Williams has provided commentary for media, including The New York Times, U.S. News & World Report, The Associated Press, The Kansas City Star, major Indiana newspapers and television networks, as well as radio stations in New York City, California, Florida, Utah and People's Radio Network.
Manchester College political science majors have exciting side-by-side experiences with their professors, from lobbying state legislators to mock trials to Model United Nations to study abroad (and in Iowa!). To learn more, visit www.manchester.edu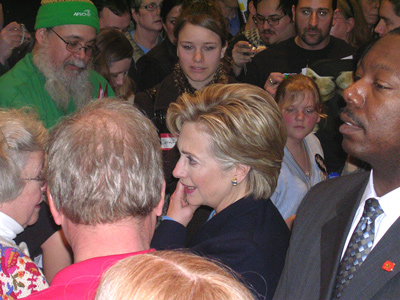 Jennifer Schoenle observes campaigning by Sen. Hillary Rodham Clinton. (Jennifer is right above Clinton's head.)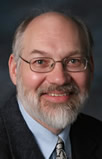 Meet

MC students in Iowa

Emily J. Ashbrook, Peru, Ind.

Holly DeNeve, New Carlisle, Ind.

Andrew Doub,

Michigantown, Ind.

Brittney Gick, Fowler, Ind.

Stephen Hendricks, South Bend

Joshua Kunkel, Huntertown, Ind.

Benjamin Martin, Myersville, Md.

Jason Ray, Liberty, Ind.

Kristi Sattison, Garrett, Ind.

Jennifer Schoenle, New Haven, Ind.

Benjamin Simons-Scalise,

Mount Pleasant, Mich.

Jessica Smith, Pendleton, Ind.

Trenton Weisser, Milford, Ind.

Tyler Yeager, Fort Wayne, Ind.

Ellen Zemlin, Carmel, Ind.

With former Sen. John Edwards, front row from left: Ellen Zemlin, Kristi Sattison and Edwards. Back row: Stephen Hendricks, Benjamin Martin and Andrew Doub

.