Note change of venue for Sept. 22 benefit
Musician brings lessons in community
outreach, service to North Manchester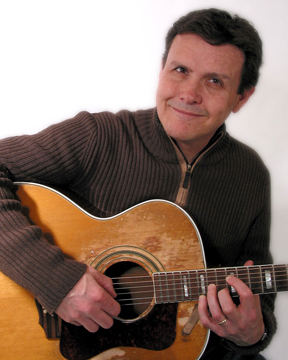 The universal connection of music comes to North Manchester the week of Sept. 17 as musician/educator James Hersch invites area residents of all ages to "Reach with Me."
Hersch brings his musical lessons of outreach and service to town in a weeklong residency at schools, retirement centers, a church, the public library, a youth hangout and Hawkins Family Farm. The residency, sponsored by Manchester College, kicks off with a 7:30 p.m. Monday, Sept. 17 program in Wine Recital Hall on campus. All of the events are free; several are for the general public.
As an advocate for community service, James Hersch travels the country teaching the value of community outreach. Manchester College students will accompany Hersch to the community
events.
If music is the universal language, James Hersch is the ideal interpreter. "Whether reflective, humorous, or just plain silly, all of his songs leave the listener full of joy and hope," says Debra Lynn, chair of the Music Department at the College.
"The music is secondary, however. He has this miraculous way of helping people to embrace their existence – everything about it: good, bad and all the stuff in the middle. If you walk in feeling indifferent or frustrated about yourself, you'll leave feeling uplifted and special."
Hersch's recordings and published works include children's music, guitar instrumental pieces and eight albums of original songs. He holds degrees in music education and classical guitar performance. For more about Hersch and "Reach with Me," visit www.reachwithme.com
"Reach with Me" will appear in all of Manchester's public schools, Timbercrest and Peabody retirement centers, North Manchester Public Library, Vernon Manor in Wabash, The Firehouse, Zion Lutheran Church. In addition, Hersch will conduct workshops with Manchester College students on campus.
Here's the schedule of public performances:
North Manchester Public Library preschool program, 1 to 1:30 p.m., Monday, Sept. 17
Manchester College program, 7:30 p.m., Monday, Sept. 17, Wine Recital Hall
Benefit for The Firehouse, 2 p.m., Saturday, Sept. 22, J.L. Hawkins Family Farm, 10373 N. 300 E. (Venue changed because of fire at The Firehouse.)
Zion Evangelical Lutheran Church, 9 a.m., Sunday, Sept. 23, 113 W. Main St.
J.L. Hawkins Family Farm, 1 to 3 p.m., Sunday, Sept. 23, 10373 N 300 E
"Reach with Me" is underwritten by Manchester College, the Community Foundation of Wabash County and J.L. Hawkins Family Farm/Hope CSA Inc.