Tell me more about classes at Manchester College!
Manchester's intense January Session
takes students on adventures
close and afar
It's January Session on the Manchester College campus – when study is intense, and students test international waters, careers and ultra-specialized classes. About 85 percent of the 1,104 students enrolled in the independent liberal arts college will participate in more than 70 courses offered Jan. 4-24.
Ten of the classes are off-campus in Europe, Central and South America and in Hawaii and other states.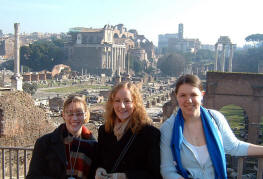 On-campus, students are learning about cultural anthropology, ethnobotany, DNA science, macroeconomics and fabric art, as well as business law, accounting, teaching and critical writing. Among the first-time classes are Ornithology, with biologist Dr. Jerry Sweeten, and History of the Holocaust by Dr. Glenn Sharfman, dean of academic affairs. Students also are working on internships as they check out possible careers (and make connections) in the communications world.
The Intercultural Theatre class will study Chinese opera with Dr. Scott K. Strode at the University of Hawaii. "We will sit in on rehearsals of Women Generals of the Yang Family," said Strode, Manchester's director of theatre. Ten MC students will observe as professionals from China teach UH theater students the style and conventions of Chinese opera and will participate in a two-day workshop on voice and movement, and even spear manipulation. "I have never seen a Chinese opera, so I am looking forward to learning something new about theater," said senior Erin Gropp of Hudson, Ind.
Of course, whenever classes are held off campus, time is scheduled for experiencing the area. Gropp, for example, will see the Chinese New Year in Chinatown, the USS Missouri and perhaps do some snorkeling.
Dr. Ingrid N. Rogers, professor of modern languages, will immerse nine students in Spanish in Cuernavaca, Mexico. "We will be housed by families of the Cuernavaca area that are located within a few miles of the school we will be enrolled in," said sophomore Emily Hallgren of Fennville, Mich., who will make the trip with sophomore Rachael Carson of Warsaw, Ind. "We think it will be very fun to experience, and an awesome chance to improve our skills in Spanish," Hallgren said.
Other classes off-campus for January Session include the service-centered annual Medical Practicum to Nicaragua, where 16 students will assist MC medical alumni and friends in a clinic. Many of the students are pre-med or Spanish majors.
About 35 Students of Dr. Mark Angelos will compare civilizations in Paris, Copenhagen and Amsterdam. And in Costa Rica, they'll enroll in a short course on at the University for Peace, established by the United Nations. Their class at UPeace will be taught by Dr. Timothy A. McElwee of the Manchester College studies faculty.
To learn more about January Session, and other opportunities at Manchester College, visit www.manchester.edu or contact us at 800-852-3648.
Manchester College's Comparative Civilization class studied in Italy for January Session 2005. This year, the class is studying in Northern Europe.