Jay Nussel joins Manchester College
fund development leadership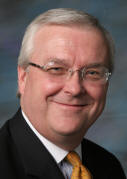 As Manchester College's new executive director of development, Jay E. Nussel will generate major, annual and deferred gifts to the College.
For the past 20 years, Nussel has worked with Smith Barney, most recently as a branch manager and first vice president in Fort Wayne. He also has led regional sales efforts for the financial firm, with advanced work in lending, trusts and estates, managed money and corporate retirement plans. The Leo, Ind., resident worked on the Legacy of Faith Campaign for the Diocese of Fort Wayne-South Bend Diocese of the Roman Catholic Church.
Nussel is returning to academia: He taught economics at the high school and college level in Toledo. He holds master's and bachelor's degrees in education from the University of Toledo.
For more about the Office of College Advancement and giving to Manchester College, click here.