Gallery G in the College Union
is open 8 a.m. to 5 p.m. weekdays
and on Graduation Day, Sunday, May 18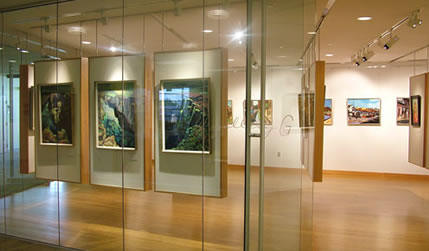 Paintings of Professor Jim Adams
fill Gallery G for two-part show
The artistry of Professor James R.C. Adams is making exciting use of Manchester College's glassed showcase Gallery G, on the upper level of the College Union. The show opened in early May with Adams' portrait and life drawings.
Now until Aug. 15 is a lifespan of his vibrant and captivating paintings.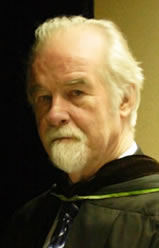 The paintings interpret Adams' vision of the world, boldly displaying his discoveries of color, shape and shadow. They include a 1972 portrait of his mother, a 1954 painting while he was a student at the Ruskin School of Art at Oxford University, and more recent scenes of Morocco, Venice and Mexico.
His collection is large. "The earliest paintings that I still have go back some 70 years," notes Adams. The nationally honored teacher and artist retires at the end of this school year.
"I discovered that I had two different approaches that alternated over many years," says Adams of the diversity of his portfolio. "One was the faithful representation of what I saw, and the other was an interpretation of what I saw." The former is a prerequisite for the latter, he notes.
"… students should learn to paint what they see before they try to paint what they feel," Adams says. "That is the way the great 'modern masters' worked. Picasso, Braque, Mondrain, Matisse, all could paint accurately. They eventually chose not to."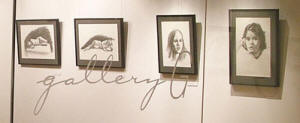 Adams' drawings were on display earlier in May. He drew all of the portraits and some of the figures in his classroom, as demonstrations, each taking 15 minutes to a half-hour to complete. "Drawing is the foundation for all art, and figure-drawing is the most important sort of drawing," says Adams. "The human body is an amazing creation, and if you can learn to draw it well, you can draw anything."
The exhibit included nudes, an important skill, notes Adams. "If you don't know what the body actually looks like, you can't draw or paint clothing convincingly. All the folds and wrinkles are caused by underlying bones, muscles, creases and wrinkles in the body … they do not fall at random."
Professor Adams has degrees from George Washington University and the Instituto Allende, affiliated with the University of Guanajuato, Mexico. He has studied at the Corcoran Art School in Washington and the University of Barcelona, in addition to the Ruskin School. He taught a year at a school in Germany, three years at the University of Barcelona and was a Faculty Fellow of the Indiana Campus Compact.
Among his numerous awards – for his artwork as well as artistic restoration – Adams was selected by Congress as the 2002 U.S. Professor of the Year among baccalaureate colleges and universities.
Hundreds of Manchester College students have not only studied art with Professor Adams, but also have traveled the world with him, to experience the art and culture of Peru, Bolivia, Mexico, Guatemala, Honduras, Belize, Italy, Spain, Morocco and India. Indeed, much of his artwork is drawn from his travels and fascination with life-long learning. Adams is fluent in Spanish and Italian and reads eight languages.
Many of Adams' works on display in Gallery G are for sale. To discuss a purchase, contact Thelma Rohrer, chair of the Department of Art, at 260-982-5327 or Jim Adams, at 260-982-5333.