FOCUS ON ALUMNI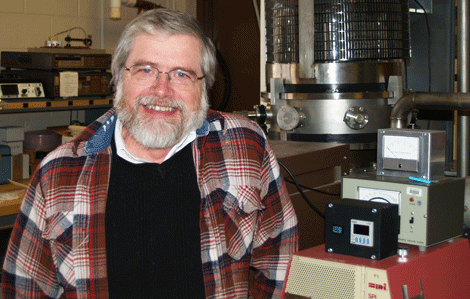 Manchester's James Gaier '74 rockets
to NASA acclaim, takes students along
"Shoot for the moon. Even if you miss,
you'll land among the stars."
Dr. James R. Gaier '74 didn't miss. The former professor and chair of the Manchester College Chemistry Department has spent nearly half his life studying the moon – especially how the lunar and Martian dust affects spacesuits, spaceships and lunar equipment.
This fall, the National Aeronautics and Space Administration (NASA) honored Dr. Gaier with its Exceptional Achievement Medal for his work at its Glenn Research Center in Cleveland. His research also has garnered him accolade as a NASA Space Flight Awareness Honoree for his contribution to astronaut safety.
Very simply, Dr. Gaier studies how lunar dust affects astronaut suits, spacecraft and other power equipment NASA uses on the moon.
Imagine billions of very tiny, very sharp meteorites crashing into things, breaking things, without any atmosphere like we have on Earth to slow them down. The dust also has microscopic "hooks" that grab fabric with enormous strength.
"Lunar dust is more cohesive and adhesive than similar-sized dust on Earth. It's very hard to clean off," reports Dr. Gaier, who has more than 130 publications and five patents.
His research demonstrates that NASA must find new ways to make its equipment and fabric more durable, and must develop ways to repel and clean off the dust.
Dr. Gaier shares his fascination with moon dust, with Manchester College student research interns and with long-time friend colleague, Dr. Greg Clark, chair of the Physics Department.
Recently, Dr. Clark, physics major Kerry Rogers '09 of North Manchester and engineering science major Tsega Mengistu '10 of Ethiopia helped Dr. Gaier analyze the effects of lunar dust on astronaut fabrics – including the spacesuit worn on the moon by Astronaut Alan Bean during an Apollo mission!
They even did some of the nanoscience on campus, using the College's new atomic force microscope. Kerry Rogers also joined Dr. Gaier at the NASA laboratories last summer to use scanning electron microscopy and other techniques to simulate moon dust on the fabrics.
This story gets even better: Some of the space suit fabric they experimented on will travel on the next Discovery Space Shuttle to be mounted on the outside of the International Space Station! (The launch is scheduled for Feb. 12.) After a couple of years, the fabric will return to Earth, and probably to Manchester College, for post-analysis.
It all began at Manchester College, with a proposed research project synthesizing liquid crystals. Professor Wilson Lutz '50, lit the spark as he mentored young Mr. Gaier: "Here's something that's never been done before. Why don't you try to do that?" While today, the process is commonplace, the student instantly was hooked.
Jim Gaier continued on his College career path to teach high school science, but research kept its hold. As he was completing his prestigious Upjohn Graduate Fellowship in protein crystallography research at Michigan State University, a NASA recruiter discovered the Ph.D. candidate, and he was off to Cleveland.
In 1992, while still employed at NASA, Dr. Gaier returned to Manchester College to teach chemistry, and to share his research with students. He led January Session classes to the Glenn Research Center for several years and initiated Manchester's biochemistry laboratory classes. Gifts from the Gaiers continue to support research equipment and materials for those classes.
Dr. Gaier keeps the NASA connection with Manchester College strong by mentoring student research interns at his Cleveland laboratory – 15 to 20 students from his alma mater over the years.
He says he feels at home at Manchester College and in North Manchester, where he and spouse Kay Domer '73 Gaier, pastor of the Wabash Church of the Brethren, are active in the congregation, the community … and Manchester College.
Dec. 5 , 2008