More about Campus Ministry at Manchester College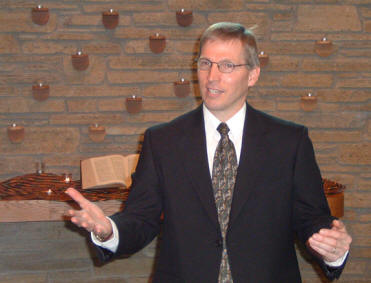 Manchester faith leader leaving
for new calling, but will
remain close to campus

Campus Pastor Jim Chinworth ends more than eight years of service to the College in January, when he steps into a new role as associate pastor for youth ministry and congregational life of the Manchester Church of the Brethren.
While Manchester is a college of the Church of the Brethren, its community is built of almost 30 denominations, including Catholic, United Methodist, Lutheran, Baptist, Presbyterian, Jewish and Muslim.
Chinworth, whose insightful prayers have opened scores of campus ceremonies and celebrations, led development of the annual community Martin Luther King Jr. service, student involvement in spirituality groups and Holocaust remembrance programs. His work on dissipating liberal-conservative tension on campus was influential in a new format this semester for acclimating first-year students to academic life. The campus religious life program, led by Chinworth, includes weekly chapel services, retreats and Bible study, and other spiritual development and enrichment.
Chinworth also serves on the College counseling team, and provides personal and pre-marital counseling. He holds a master's of divinity from Lancaster Theological Seminary.
His new position at the Manchester Church of the Brethren will give Chinworth opportunity to develop a congregationally based youth ministry while assisting the congregation in making connections with the local community. The congregation voted to call Chinworth as associate pastor on Sunday.
"The entire campus community will miss the energizing and fortifying presence of Jim Chinworth, but we are grateful he is staying close at hand in North Manchester," said Beth Switzer-Riley, vice president for student development.