"Goo Goo Ga Ga!"
Joe Scruggs is bringing his
Nanny Nanny Boo Boo Revu
to Manchester College!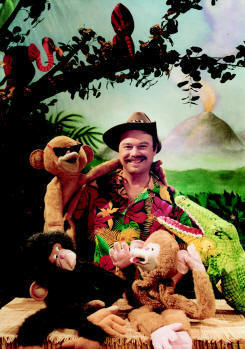 Tell me more about Joe Scruggs
Just what are Bahamas Pajamas? Do you know Even Trolls Have Moms? Kids know that these – and the catchy Goo Goo Ga Ga – are the wonderfully wacky songs of children's singer-songwriter Joe Scruggs.
The award-winning goofball is bringing his menagerie of skits, songs and colorful characters to the Manchester College stage at 3 p.m. on Sunday, Nov. 20. Appropriately, the "Nanny Nanny Boo Boo Review" is free for all children 12 and under. While the program is focused on kids age 4 to 8, Scruggs has delighted adult audiences of the Today Show, David Letterman Show, PBS show Barney, and even the Atlantis space shuttle astronauts.
Other tickets for the show in Cordier Auditorium on the North Manchester, Ind., campus are $7 for adults, $5 for senior citizens and children over 12. Reservations are strongly recommended, 260-982-5551.
Scruggs, who lives with his wife and children in Texas, began captivating audiences all around the globe 20 years ago with his psychic puppet songsters.
Influenced by folk singers of the '60s, the music is laid-back, with songs about growing up, like Rapunzel Got a Mohawk and Big Underwear, which have earned five Parents' Choice Awards and a CableACE Award, among dozens of other honors. He has produced nine albums and two videos with his school pal, Pete Markham, and teacher lesson plans to accompany the music. For more about Joe Scruggs, visit his website at hellojoe.com
The Manchester College Student Education Association will provide activities to keep antsy children busy before the concert, beginning at 2:30 in the Cordier lobby. Afterward, Scruggs will sign autographs. His music and merchandise also will be on sale in the lobby.
Last spring, Manchester College student teachers were assigned to 35 northern Indiana schools. More than 300 students enrolled in MC education classes will total more than 27,000 hours of classroom field experience this year. For more about the Education Department, which offers 16 licensing areas, call 260-982-5056 or visit the College website at manchester.edu