RAIN: Event rescheduled to Sunday, July 5, 2009
Music and games at 8:30 p.m.
Fireworks at 10 p.m.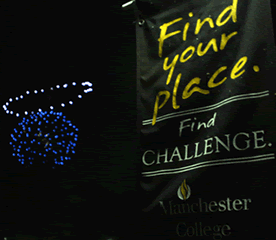 Manchester hosts patriotic
party for community
(2009) Independence Day is on the horizon and Manchester College is ready to celebrate in a huge way, lighting up the sky and hearts of all ages with music, patriotic readings, games and, of course, fabulous fireworks. It's all free, on Saturday night, July 4, on the North Manchester campus.
The College's annual $5,000 gift to the community tunes up with the Manchester Civic Band, at the baton of Reggie Smith, at 8:30 p.m. on the athletic grounds. Local youth and a World War II veteran will give patriotic readings during the performance.
Members of the North Manchester Fire Department will direct the 10 p.m. fireworks display, which drew a crowd of 1,000 last year. While bleachers are available, celebrants may want to bring lawn chairs or spread blankets to enjoy pre-fireworks events. All activities are on the College athletic grounds, on the northeast side of North Manchester and the campus, off East Street.
New this year: kite flying and activities for children. The North Manchester Rotary returns with its $1 hot dogs, popcorn and drinks to raise funds for community reading programs and scholarships for Manchester High School seniors. Beacon Credit Union donates personal flags for the crowd.
A reminder that no personal fireworks, including sparklers, are permitted on College grounds.
If it storms, the party moves to Sunday, July 5 – same times, same place. For more about the 4th of July Celebration, contact Manchester College at 260-982-5210 or pr@manchester.edu.
June 2009