Read more about Professor Ken Brown
Peace studies pioneer Ken Brown honored for lifetime achievement
by national association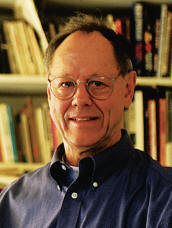 Manchester College Professor Kenneth L. Brown, a national peace studies pioneer, has received the Lifetime Achievement Award from the Peace and Justice Studies Association. More than 300 colleges and universities are members of the group.
For more than 50 years, Brown has been a nonviolent activist and educator for peace and justice. For 25 years, he directed the peace studies program at the 1,100-student Manchester College in northern Indiana.
An ordained minister in the Church of the Brethren (one of the historic peace churches), Brown has founded several organizations, including the church's grassroots anti-war organization and the War Tax Resisters' Penalty Fund.
Brown assumed the leadership of the college's Peace Studies Institute and Program in Conflict Resolution in 1980. The interdisciplinary curriculum integrates study of conflict resolution, global studies, religious and philosophical bases of peacemaking with nonviolence theory and practice.
With leadership in merging study with action, Brown has served as consultant to peace studies programs across the country and has led study teams to Vietnam, Brazil, Northern Ireland, Haiti, Thailand, India, Jamaica, Colombia, Nicaragua, Mexico and Cuba.
International activists such as Elaine Zoughbi, who has worked for enduring peace in Palestine for decades, and Yvonne Dilling, whose work on behalf of human rights in Central America has received international acclaim, say Brown inspired them to lead lives of active service for peace and justice in challenging international settings.
"Ken's class transformed my life," said Robert C. Johansen, a widely published expert on international relations and global governance. "We sensed that we were children of the universe, standing on an ethical foundation that transcended race, nation, and our time in history, gently breathing the air of immortality." Johansen, who studied under Brown in the early '60s, is a senior fellow with the Joan B. Kroc Institute for International Peace Studies at the University of Notre Dame.
For more about Manchester College's peace studies program, visit www.manchester.edu
For more about The Peace and Justice Studies Association, visit www.peacejusticestudies.org